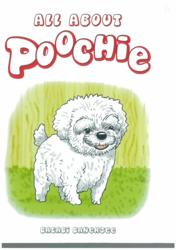 An epitome of family love towards their beloved pet dog Poochie. A unique short stories for kids is now available online.
Singapore, Singapore (PRWEB) October 09, 2012
All About Poochie is a real life story of an adorable puppy named Poochie. This short story captures every readers heart with its unique blend of a family's love for their beloved pet while Poochie tries to settle down in his new home and surroundings.
This real life story which has been immortalized into a children storybook has grown to be very popular among children of all ages, kindergarten teachers and parents.
There are many storybooks for children out in the market these days, however, few compare to the warmth and charm of this short story about Poochie.
Kids will fall in love with Poochie's character as he is lovable yet fun.
This storybooks for children subtly advices children how to nurture and take care of a pet maltese and why they are called as comfort dogs.
Taking care of a pet maltese can be a huge learning curve but All About Poochie covers important aspects of caring for them in a fun yet entertaining way.
Children of all ages as well as parents will find this book very engaging and interesting as it shows Poochie's development as a young puppy settling down into a new home after being adopted. This lesson alone will help kids who already own pet dogs or who are thinking about adopting one, specifically a pet Maltese, in to the actual process of what happens after adoption and the hiccups they might face after adopting a pet dog.
Very rarely you would find children's storybook that is fun, entertaining, engaging and also educational all based around a real life story of a pet. Children will learn to be more knowledgeable, caring and loving towards their pet dogs.
So who exactly is Poochie? Poochie is a Maltese, was flown from Australia to Singapore when he was just a tiny little puppy.
Poochie was adopted by Mum, Dad, Tipper and Ricky who are the main characters from the storybook.
This storybook for kids gives us all an insight to the life of Poochie as he settles into his new home, visits the vet and learns how to get along with other dogs.
Life is indeed alot of fun with Poochie around.
All About Poochie is a must read storybook as it comprises of many short stories for kids and it teaches children and parents about the responsibilities of being a pet owner.
It is well worth the time and All About Poochie will capture the hearts of everyone that reads it.
Grab a copy of All About Poochie today.