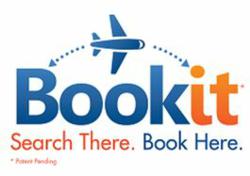 Waterloo, Iowa (PRWEB) December 18, 2012
Short's Travel Management has taken a new spin on the Open Booking buzz going around the corporate travel marketplace this year with their product, BookIt. BookIt allows business travelers to search at leisure travel websites, like Hipmunk.com, and still book their tickets through their travel management company (TMC). The concept is simple - search there, book here.
With the first version of BookIt, released in early 2012, business travelers "Share" or "Email" their preferred flights from other websites to BookIt. BookIt applies the company's corporate discounts to that flight, and searches for lower fare in the market across all airlines. The traveler receives an email back and books their ticket with the TMC directly from their email in just 3 clicks. Short's Travel has learned from this first version that the process must be easier to use without needing to train employees, or requiring them to remember, to follow this process.
Short's Travel will be releasing their newest version, the BookIt App, in January 2013, which supports many more travel websites, including airlines' websites, and is literally the "easy button" for business travelers. When the BookIt App is turned "on" in the computer's browser, and travelers are shopping for flights, they will see the BookIt button. If the traveler is booking a trip for work, they simply enter their company email address on file with their TMC and click the BookIt button. The BookIt App then searches for their company's corporate discounts and travel policies, checks for lower fares on other airlines or schedules, and returns results in an email. The traveler then purchases their flight online within their corporate travel program in just 2 clicks.
The new Bookit App solves the problems travel managers have today when employees find flights outside of the corporate tool, but doesn't require them to leap into a full Open Booking program where travelers can book wherever they want. The travel manager still has full control of their travel program because all bookings are being managed through one TMC. All corporate discounts and unused tickets credits are being applied; and all travelers' locations are being tracked from one central database. The Bookit App also makes it easier for business travelers to buy their business trips because they check-out at one website where all of their airline frequent flyer and corporate cards are stored and automatically applied.
About Short's Travel Management:
Short's Travel Management is a full-service travel management company with a passion for innovation and professional service to enable companies of all sizes to more effectively manage their travel investment. With over 64 years of Travel Management Experience, Short's Travel continues to be one of the top Travel Management Companies in the industry.
About BHiveTravel.com
For companies who don't need a fully managed travel program, Shorts offers it's free online travel management tool, http://www.BHiveTravel.com. BHive allows businesses and organizations to get the robust booking and reporting tools of a fully managed travel program for no cost. Bookit is fully integrated with the BHive.