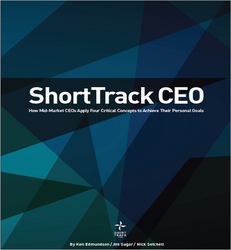 Our experience has shown that there are five distinct personas of mid-market CEOs, and each persona is tied directly to the CEO's personal goals and affects how they manage their company
Memphis, TN (PRWEB) September 1, 2010
The founders of ShortTrack CEO, the first business management system created by CEOs for leadership teams of mid-market companies, today officially released their book titled ShortTrack CEO: How Mid-Market CEOs Apply Four Critical Concepts to Achieve Their Personal Goals.
The 162-page eBook from authors and ShortTrack CEO founders Ken Edmundson, Jim Sagar and Nick Setchell discusses the results of their collective work with 2,000 CEOs of mid-market companies in the United States, Australia and the U.K. over a 10-year period.
The book is structured as a how-to manual for mid-market CEOs. It outlines four critical concepts and twelve activities that mid-market CEOs can use to overcome the common challenges that mid-market companies face.
"CEOs of mid-market companies are fundamentally different from their Fortune 500 and small business owner counterparts," said Ken Edmundson, co-author and CEO of ShortTrack CEO, LLC. "They're not only different from big company and small company CEOs, they're different amongst themselves. Our experience has shown that there are five distinct personas of mid-market CEOs, and each persona is tied directly to the CEO's personal goals and affects how they manage their company."
The book outlines how the different types of mid-market CEOs are attracted to four high-level management concepts that help them to

Find the hidden numbers between their P&L and balance sheet that tell them if their time, energy, risk and money are being invested wisely.
Increase the accuracy of their managing and hiring decisions to 80%.
Energize their people to achieve their vision by creating a galvanizing culture.
Win mindshare to build a competitive advantage and grow sales.
"Mid-market companies have the need to approach certain business areas in the same manner as the Fortune 500, but many don't have the resources—either training, financial capital or enough intellectual capital—to do so," noted Jim Sagar, ShortTrack CEO co-author. "We worked to create and organize solutions that give mid-market CEOs the ability to run their companies in the same manner as their big company counterparts, but in a format they can use."
"One of our key findings was that most mid-market CEOs know why they want to achieve certain management objectives, but don't have the roadmap of how to implement them," said Nick Setchell, ShortTrack CEO co-author. "There are plenty of 'why' books in the business book marketplace today, and plenty of books that explain 'how' to complete certain business activities, but very few that tie together the 'why' and the 'how' in a single text. We strove to accomplish that with our book."
The ShortTrack CEO book for mid-market CEOs is available at http://www.ShortTrackCEO.com and is currently complimentary.
About ShortTrack CEO, LLC:
ShortTrack CEO is a business management system designed by CEOs for leadership teams of private companies with less than $100 million in revenue. The ShortTrack system enables CEOs to control the four fundamental areas of their business that impact their value — Foundation, Market, People, and Operations — and align their team to their purpose to achieve measurable results every 90 days.
ShortTrack CEO is privately-held and headquartered in Memphis, Tennessee with locations in Scottsdale, Arizona and Adelaide, Australia.
###