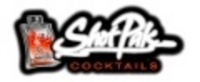 From the Board point of view, we could only see this Technology Agreement as having a huge benefit for the Company, as ShotPak could now go national and ride on the back of PPi Technologies Global, who has companies in Korea and China as well as offices in Europe and South Africa for future global distribution plans
IRVINE, Calif. (PRWEB) January 15, 2008
After the launch in August of the new StandUp pouch, it became apparent that the Company could not survive solely on existing California and surrounding states sales in the short term, and that further expansion into other states would be necessary. Although the Company had planned distribution to other states, containerized shipping had not begun to date.
The Beverage Pouch Group has always owned the patented StandUp pouch with the easy tear feature design and had a process agreement to maintain the machine at the distillery used by ShotPak. The BPG team was intimately involved in the new startup and Phase 2 plans, which required more machinery and thus more money.
The development costs from the past three years had left the company with substantial debt load, which led the Board to the decision to sell certain assets to BPG in return for 15% equity ownership interest in BPG and a per case royalty.
For BPG, they gained access to the ShotPak formulae and ShotPak is now able to continue round two of development without the burden of production costs, distribution deals and product promotion as well as having the ability to start servicing the debt.
BPG is a 'one of a kind' beverage company in that its parent company, PPi Technologies Global, is vertically integrated with equity in the machine manufacturer, the owner of patented pouch packaging designs and is the distribution arm for water products; including energy drinks, teas and natural flavor waters with no calories; wine pouches used by major global wine companies; draft beer packaging in a patented CarboPouch. Also, from a previous joint venture they have garnered full experience in manufacturing liquor filled pouches which will benefit the ShotPak brands.
"From the Board point of view, we could only see this Technology Agreement as having a huge benefit for the Company, as ShotPak could now go national and ride on the back of PPi Technologies Global, who has companies in Korea and China as well as offices in Europe and South Africa for future global distribution plans," stated R. Charles Murray, CEO of BPG.
A quick summary of our first 30 days activities:
-- The resolution to accept the technology agreement was approved.
-- BPG combined their California office with the ShotPak office. Both companies will benefit from the shared expenses.
-- Two new major drugstore chains have indicated their complete acceptance of our marketing plan to sell them water in the new BPG EnvoSmart(TM) environmentally friendly, sustainable low carbon footprint pouch, alongside new orders for the ShotPak cocktail flavors. More news will follow in the coming weeks about this deal.
-- BPG will provide revenue for ShotPak to start paying down debt. Our future plans for ShotPak are to form strategic partnerships with distilleries in other countries who want to market exclusive alcohol products in the USA market and add another source of revenue for the Company.
-- Despite short notice via our web site, we received shareholder support for our first shareholder call in and meeting in California last week.
-- On an ongoing basis, we will be posting notices on our website regarding all upcoming meetings as well as shareholder notices and information. Shareholders are encouraged to email or telephone the Investor Relations department with questions.
-- Management of both companies will serve on a Management Committee. Five others, who are also major shareholders, make up the rest of the Management Committee and bring their vast business experience to the ShotPak/BPG team to ensure a wide variety of ideas and thoughts for the future.
In conclusion, after the first 30 busy days we have an achievable budget for the next three years, we have a Research and Development plan that has been fast forwarded by a year with BPG's help and in autumn we will introduce new flavors and additional straight beverages.
The departure of the previous CEO, Ignus Hattingh, began when The Board became very concerned at his lack of management experience and more importantly, his blatant disregard for their financial decisions. In September, he agreed to step down from his position as CEO. At that time, Bill Marin was appointed President and responsible for financial matters. Mr. Hattingh became the Sales Director/Consultant for the Company. After the BPG/ShotPak Technology Agreement was approved, Mr. Hattingh notified the Board of his desire to return to South Africa and his resignation was mutually accepted.
Bill Marin, President of ShotPak, Inc., comments, "Looking ahead, with the assistance of BPG, who has taken a major stock position to show their confidence in the future of our Company, we have an achievable Business Plan that has clear objectives for the growth of the business. ShotPak intends to post the information required to conform to Pink Sheets' `Guidelines for Providing Adequate Current Information' on the News Service this month, to help remove the 'Skull & Crossbones' designation. In the future, ShotPak also plans to have its securities quoted on the OTCBB."
For full details of the recent "Letter to Shareholders" issued jointly by R. Charles Murray and Bill Marin, please visit http://www.shotpakinc.com/investors.html.
Information on ShotPak, Inc.:
ShotPak, Inc., an Irvine, California based company, since 2003, is a leading distiller and innovator of cocktails and straight spirits in patented soft portable single serving standup pouches. With over 50 years of combined experience and expertise in alcohol distilling, distribution and field marketing, retail placement and promotion as well as consumer trial and adoption, they prove to be a forerunner in the single serve Ready to Drink (RTD) alcohol category. With the successful launch of four premium vodka flavored drinks and four premium distilled spirits in January 2007, ShotPak has instantaneously captured national attention in the rapidly emerging $110 billion plus alcohol beverage industry, with distilled spirits showing an 8.1% increase. They are recognized for being visionaries with their award-winning spirits and revolutionary packaging which gives consumers a cost effective way to purchase spirits without the bulky bottle.
ShotPak products are packaged in single serving, lightweight, break-resistant, recyclable plastic pouches with a built-in spout, making it easy to pour anywhere. ShotPak products are ideal for camping, boating, golfing, concerts, sporting events, or for anyone on-the-go. Made from energy efficient sustainable laminations instead of glass, ShotPak products provide a safe alternative especially during summer activities. ShotPak, Inc. is immersed in a national roll-out through strategic distribution channels and is expected to be available in most major markets this year. For more information about ShotPak, Inc., please visit us at: http://www.shotpakinc.com.
Information on Beverage Pouch Group:
Beverage Pouch Group a Sarasota, Florida based company, since 1996, is the leading provider of StandUp pouch machinery through its parent Company PPi Technologies Global, in North America. BPG is a prolific innovator of pouch designs and structures for life style beverages, including Natural Flavor Waters, all types of cocktails and straight spirits, wines and draft beers in patented soft portable single serve and sustainable StandUp pouches. The Beverage Pouch Group is truly global with plants in Germany, Korea and China. BPG's pouch machinery is the industry standard.
Beverage Pouch Group offers a full range of Lifestyle Beverages to the consumer in sustainable StandUp pouches. The Beverage Pouch Group machines and StandUp pouches are marketed through four divisions:
ShotPaQ for liquors; BevPaQ for natural flavor waters, teas, coffees and energy drinks; VinoPaQ for wines; and BeerPaQ for draft beers
BevShot is BPG's contract packing division. A customer brings their proprietary recipe and BPG's BevShot division then utilizes their machinery and process' to fill that product into patented pouches. This arrangement saves a small company precious capital at times when resources are needed to grow their business by allowing them to meet the financial requirements to begin production without the cost of purchasing their own equipment.
Safe Harbor: Except for the historical information contained herein, the matters set forth in this press release, including the description of the Company and its product offerings, are forward-looking statements within the meaning of the "safe harbor" provision of the Private Securities Litigation Reform Act of 1995. These forward-looking statements are subject to risks and uncertainties that may cause actual results to differ materially, including the historical volatility and low trading volume of our stock, the risk and uncertainties inherent in the early stages of growth companies, the Company's need to raise substantial additional capital to proceed with its business, risks associated with competitors, and other risks. These forward-looking statements speak only as of the date hereof. The Company disclaims any intent or obligation to update these forward-looking statements.