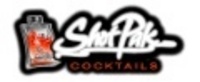 IRVINE, Calif. (PRWEB) March 12, 2008
Charles Murray, CEO of the Beverage Pouch Group, commented, "The new multi-six-pouch pack has many benefits for the stores, ensuring greater control and less theft. There are also benefits for the environment with a low carbon footprint and for the consumer with lower prices. We decided that as St. Patrick's Day was the start of the spring party season, we would use regional talk radio to reach our target market, the over 21 demographic. There was no doubt that Frosty, Heidi and Frank on CBS Radio's KLSX 97.1 The FM Talk Station was the best team to start a lively discussion about the brand in its new multi-six-pouch pack."
The ShotPak cocktails new lower alcohol formulae address' many of today's concerns, which allows the consumer to control exactly the amount of alcohol consumed and ensures no counterfeit product substitution.
Bill Marin, President of ShotPak, Inc adds, "There is no doubt that CBS Radio's KLSX 97.1 The FM Talk Station's adult talk radio show has a very strong position and following from loyal listeners who are often trapped in Los Angeles traffic and who use their cell phones to explain their needs or feelings. Their show has a live 'party around a product' segment where they invite all listeners and local law enforcement to contribute to the lively non scripted discussions that occur around all the featured products. Although their radio show is broadcast live in Los Angeles, they find that many of the listeners are tuning in from their computers on the Internet at http://www.97.1freefm.com."
The new multi-six-pouch packs will be available throughout the listening area and Classic Distributing & Beverage Group, who launched the original ShotPak singles, will once again ensure region-wide distribution.
Information on ShotPak, Inc.:
ShotPak, Inc., an Irvine California based company, since 2003, is a leading innovator of cocktails and straight spirits in Beverage Pouch Group's patented soft portable single serving standup pouches. With over 50 years of combined experience and expertise in alcohol distilling, distribution and field marketing, retail placement and promotion as well as consumer trial and adoption, ShotPak, Inc. and Beverage Pouch Group prove to be a forerunner in the single serve Ready to Drink (RTD) alcohol category. With the successful launch of four premium vodka flavored drinks and four premium distilled spirits in January 2007, ShotPak has instantaneously captured national attention in the rapidly emerging $110 billion plus alcohol beverage industry, with distilled spirits showing an 8.1% increase. ShotPak, Inc. and Beverage Pouch Group are recognized for being visionaries with their award-winning spirits and revolutionary packaging which gives consumers a cost effective way to purchase spirits without the bulky bottle. For more information about ShotPak, Inc. please visit us at: http://www.shotpakinc.com.
Information on Beverage Pouch Group:
Beverage Pouch Group a Sarasota, Florida based company, since 1996, is the leading provider of StandUp pouch machinery through its parent Company PPi Technologies Global, in North America. BPG is a prolific innovator of pouch designs and structures for life style beverages, including Natural Flavor Waters, all types of cocktails and straight spirits, wines and draft beers in patented soft portable single serve and sustainable StandUp pouches. The Beverage Pouch Group is truly global with plants in Germany, Korea and China. BPG's pouch machinery is the industry standard.
Beverage Pouch Group offers a full range of Lifestyle Beverages to the consumer in sustainable StandUp pouches. The Beverage Pouch Group machines and StandUp pouches are marketed through four divisions:
ShotPaQ for liquors; BevPaQ for natural flavor waters, teas, coffees and energy drinks; VinoPaQ for wines; and BeerPaQ for draft beers
BevShot is BPG's contract packing division. A customer brings their proprietary recipe and BPG's BevShot division then utilizes their machinery and process' to fill that product into patented pouches. This arrangement saves a small company precious capital at times when resources are needed to grow their business by allowing them to meet the financial requirements to begin production without the cost of purchasing their own equipment.
Safe Harbor: Except for the historical information contained herein, the matters set forth in this press release, including the description of the Company and its product offerings, are forward-looking statements within the meaning of the "safe harbor" provision of the Private Securities Litigation Reform Act of 1995. These forward-looking statements are subject to risks and uncertainties that may cause actual results to differ materially, including the historical volatility and low trading volume of our stock, the risk and uncertainties inherent in the early stages of growth companies, the Company's need to raise substantial additional capital to proceed with its business, risks associated with competitors, and other risks. These forward-looking statements speak only as of the date hereof. The Company disclaims any intent or obligation to update these forward-looking statements.