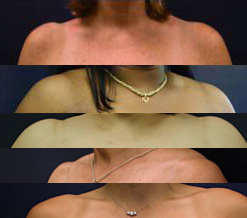 I have seen some very happy patients and it's amazing to me that no one else talks about these unaddressed patient concerns!
Park Ridge, IL (PRWEB) August 26, 2016
Dr. Sam Speron, a Board Certified plastic surgeon and cosmetic breast surgeon now offers his patients a new simple office-based treatment for shoulder grooving before or after breast reduction surgery.
Breast reduction surgery can improve a woman's quality of life and is widely performed. Also known as reduction mammaplasty, it is a procedure to remove excess breast fat, glandular tissue and skin to achieve a breast size in proportion with your body. It can alleviate the discomfort associated with overly large breasts. Candidates include women who have back, neck and shoulder pain caused by the weight of their breasts and shoulder indentations from bra straps.
Dr Speron has noticed that the shoulder grooving frequently seen before and after breast reduction surgery is often not addressed by most plastic surgeons. With less weight, there is obviously less pressure but common complaints like indentations, grooving as well as skin and pigmentation issues remain unaddressed in the shoulder area.
Dr Sam Speron offers several simple office based procedures to correct these common problems. After a private consultation, all options are discussed with a patient based on her specific complaints. Options include fat injections to fill in the grooving and possibly improve skin quality, injectables like Radiesse and Juvederm to replace lost volume, and no down-time laser treatments to improve pigmentation and skin changes.
"I think talking to patients is critical," says Dr. Sam Speron, Chicago breast reduction plastic surgery expert and consumer advocate. "Contrary to popular belief, shoulder grooving does not magically go away after breast reduction surgery which usually addresses the shoulder pain and symptoms. The cosmetic deformity can be filled in with fat injections or fillers like Radiesse or Juvederm and the skin changes improved with laser treatments! Patients should be told this so that they have realistic expectations. Even though insurance doest not usually cover these ancillary procedures, they can be done in the office under local anesthesia and are very affordable options. I have seen some very happy patients and it's amazing to me that no one else talks about these unaddressed patient concerns!"
For further information or to have a free consultation at Dr. Speron's office, please call us at 847 696 9900, email us at prplastic(at)yahoo(dot)com or visit https://www.prplastic.com.
Dr. Speron is the founder and medical director of Dr. Speron Plastic Surgery, the Park Ridge Medical Spa and the Park Ridge Lab. He is board certified with the American Board of Plastic Surgery and an active member of both the American Society of Plastic Surgeons (ASPS) and American Society of Aesthetic Plastic Surgeons (ASAPS).