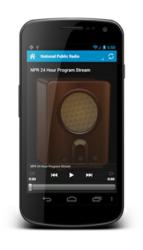 Now anyone can turn their Internet radio station into a professional Android app in minutes using Andromo. There's no coding required.
Winnipeg, MB (PRWEB) July 31, 2012
Now anyone with an Internet radio station can turn it into a professional quality Android app in minutes using Andromo App Maker for Android – all without programming or coding. The new SHOUTcast/Icecast radio activity is the latest addition to Andromo's suite of audio features, which also includes music players, soundboards, and Podcasts.
Andromo is an online service for creating Android apps without coding. Users create apps by picking and choosing from a list of popular activities, like photo galleries, Facebook pages and Twitter streams among others.
With its new radio activity, Andromo now includes support for online playlists (.m3u, .pls or .asx) as well as streaming broadcasts from SHOUTcast and Icecast servers. All the designer has to do is enter the stream's URL, and Andromo can build an Android app that streams audio from this location.
Shoutcast.com cites hundreds of thousands of listeners streaming radio at any given time. As an Android app, an internet radio station can reach a greater listenership by being a convenient tap away on Android devices. Broadcasters can use Andromo to make a professional app that is built in minutes, and ready for immediate distribution to 300 million+ Android users on Google Play.
"We know that the radio activity is going to make a lot of people happy. Since we first launched Andromo, support for internet radio has been one of the most requested features," says Andromo founder Colin Adams. "Now anyone can use Andromo to turn their Internet radio station into a professional Android app in minutes."
Since apps built with Andromo can include multiple features, Andromo offers broadcasters a chance to provide a more interactive experience for their listeners than radio alone can provide. In addition to streaming radio within their app, users can embed other useful features like Facebook pages, Twitter feeds, YouTube videos, contact pages and much more.
To turn Internet radio stations into Android apps, app developers can subscribe to Andromo at http://www.andromo.com for the introductory price of only $25/month or $99/year.
About Andromo App Maker for Android
Andromo is a trademark of Indigo Rose Software Corporation. Privately held, Indigo Rose Software has been creating award-winning software development tools since 1991. Our programming tools - AutoPlay Media Studio, Autorun MAX!, MSI Factory, Setup Factory, TrueUpdate, and Visual Patch - have been used to deliver software to hundreds of millions of systems worldwide.