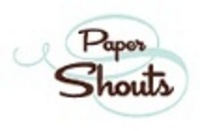 When we got engaged we were excited to share the news but wanted an engagement announcement that reflected who we are
SCOTTS VALLEY, Calif. (PRWEB) February 13, 2008
Paper Shouts products include baby shower invitations, birth announcements, kids birthday party invitations, sweet sixteen party invites, graduation announcements, bar/bat mitzvah invitations, quincineara invitations, wedding invitations, party invitations, holiday cards, pet announcements, thank you cards and more.
Paper Shouts matches the individual styles of its customers with traditional, vintage and modern design collections. An easy-to-shop format with sections for Baby Shouts, Kid Shouts, Teen Shouts, Bridal Shouts, Holiday Shouts and More Shouts allows customers to find what they are looking for in minutes. Once they have chosen a Paper Shouts design, customers can personalize it by uploading images that they can manipulate -- scaling them, changing their color and repositioning them -- and by adding their own text. Customers see a final preview of the card prior to ordering, taking the mystery and fear out of ordering online.
"We started Paper Shouts with the mission to deliver high-end cards created by award-winning designers at a price that lets everyone enjoy them," said Shannon Malliet, president of Paper Shouts. "Life's big moments usually only happen once, and we want people to be able to share their big news with cards that are as special as the events themselves."
"When we got engaged we were excited to share the news but wanted an engagement announcement that reflected who we are," said Kristina Carlson, fiancee of Colorado Avalanche NHL player Scott Hannan. "The design of our Paper Shouts announcement was perfect and we were very impressed with the quality. I can't wait to see our wedding invitations!"
Starting in the first quarter of 2008, the company will start printing cards, invitations and announcements on recycled paper as well. "Recycled papers have come a long way in the last year -- you no longer have to sacrifice quality to help the environment," commented Malliet. "We have sourced paper stocks that give our customers the same high-end finished product but that make an eco-friendly purchase."
For more information please visit http://www.papershouts.com.
About Paper Shouts, Inc.
Paper Shouts, headquartered in Scotts Valley, California, was created with the mission of giving people a way to share their family news that is not only easy and cost effective but also provides an end result that is as fabulous and personal as the events themselves. Paper Shouts believes the design of an invitation or announcement should be an extension of the personalities of our customers, so we have created a unique set of designs to reflect individual styles -- traditional, vintage and modern. For more information on Paper Shouts, please visit http://www.papershouts.com.