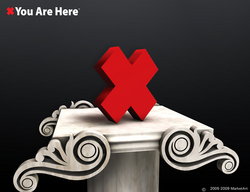 Atlanta, GA ExpoExpo (PRWEB) December 9, 2009
MarketArt announced here today a major new product release that unifies and improves the way event organizers build, sell, market and monetize trade shows. The Core Elements of the company's You Are Here product suite now enable a seamless environment for organizers and planners to build floor maps, sell booth space, manage exhibitor data and publish an interactive map and directory system on the show's website.
You Are Here CE™ is a new, low-cost, web-services platform that scales from the smallest to the largest of trade shows and improves event economics with increased productivity and new capabilities. Easy-to-use interfaces across multiple functions dramatically increase user accessibility and expand the number of users among organizer, contractors and exhibitors. You Are Here CE also scales in functionality. It positions event organizers to move beyond offering one-time, short-term event sponsorships toward providing a year-round marketing platform that leverages their exhibitors' own digital marketing programs.
Included with CE is You Are Here Floor Manager™. Event organizers now have 'no-training' interfaces and workflow collaboration tools that consolidate and improve the execution of multiple event-management tasks. Event planners can work with their contractors and decorators to build and manage floor plans online in real time. The event's sales staff uses the same system to work with exhibitors to reserve and sell booth space. Exhibitors can enter and maintain their own information and logos directly into the system.
You Are Here CE leverages the floor plan and booth sales process and extends that effort to produce a consumer-facing map and directory system. Unlike legacy CAD-based systems designed for technical users, event organizers now use their floor planning and booth sales efforts to seamlessly create an attractive map and directory system on the show's website that is designed for all attendees and exhibitors to use before, during and after the event.
You Are Here CE also provides a low-cost foundation for organizers to transition their event management costs into event marketing revenue. The entire You Are Here product suite scales to include consumer-facing modules for both attendees and exhibitors that enable pre-show planning, self-provisioning advertising, search engine marketing, social networking, post-show analysis, and year-round directories. The rich-media system is a viable alternative to both the revenues and the long shelf-life provided by printed event directories. You Are Here provides show organizers with a unified digital environment to enhance their event, embrace their customers and extend benefits to attendees and exhibitors year round.
About MarketArt - http://www.MarketArt.com
MarketArt is a digital media technology company that develops and sells interactive media and advertising systems to both online and to out-of-home markets. The company is the leading provider of electronic directories and media systems to the events and trade show markets with its You Are Here products.
You Are Here is an event management, event marketing, exhibitor promotion and attendee information system for event managers, exhibitors and attendees. Its core is an interactive, map-based, directory and advertising platform used to build trade shows and online marketplaces for associations and their members. You Are Here leverages user-content, search, social and digital media into a powerful event marketing 'magnet' that builds community and connects buyers and sellers year round. It provides exhibitors extended value to their event participation and enhances the value of each exhibitor's own online marketing programs.
The system is deployed both on a show's web site and on directly throughout the show floor itself, is deployed by many of the largest trade shows in the U.S. and is a new-media platform for thousands of exhibitors from around the world. You Are Here can replace traditional printed materials and is especially important to environmentally 'green' events. The company has offices in Alexandria, VA and Albany, NY.
###