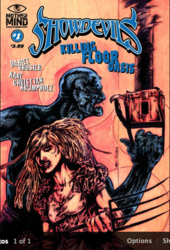 I'd describe the comic as a curious blend between Rob Zombie's "The Devil's Rejects" and a Scooby-Doo mystery,"- writer Daniel Crosier.
Denver, CO (PRWEB) July 04, 2012
A new one-shot comic book is based off of the antics and performances of the world-renowned sideshow performers The Enigma (X-Files, Ripley's Believe It Or Not, Making Monsters) and Serana Rose known as the Show Devils has been released by Mother Mind Studios.
"Show Devils: A Killing Floor Oasis" is written by Daniel Crosier ("Distortions Unlimited," "Vincent Price Presents"), and illustrated by Karl Christian Krumpholz ("Byron," "Vincent Price Presents"), and published by the new independent film and comic book company based in Denver called, Mother Mind Studios.
The plot of "Show Devils: A Killing Floor Oasis" revolves around The Enigma and Serana Rose performing at a secluded fort. When the host of the venue reveals his true intentions to the duo, all hell breaks loose. It's described as a curious blend between Rob Zombie's The Devil's Rejects and a Scooby-Doo mystery.
The Enigma has been a featured talent with a career spanning over two decades performing at Lollapalooza, and opening for Nine Inch Nails. Serana Rose has been performing sideshow for the last several years, but has quickly established herself opposite her stage partner. On stage, the Show Devils breaths new life into the old art with their talent for humor, and presentation, supported by disciplined skill that leaves the audience in awe.
Crosier developed the concept for the story after meeting The Enigma at a dark arts festival in Kentucky in 2010. He has been working on projects with the performer for the past two years while developing the comic book.
Crosier describes the inspiration for the book. "The Enigma & Serana are two walking, talking action figures. Their personalities, and performance, as well as their unique look screams to be translated into comic books. I am happy to help bring that to life, especially with Karl illustrating this story."
Crosier is best known as the wood-burning artist behind the "Bartholomew of the Scissors" series and the writer and illustrator of the "Distortions Unlimited" comic book series. Distortions Unlimited is a Colorado-based animatronic company featured on the Travel Channel's television series, "Making Monsters." Both Crosier and The Engima have been featured on the show.
Karl Christian Krumpholz has been working as a writer and illustrator in the comic book industry for many years. He is best know for his stylized illustration, working on the "Byron" series for Slave Labor Graphics, as well as "Vincent Price Presents."
Crosier will be selling the book at the 2012 San Diego Comic Con at booth K-14/Small Press. Also, Mother Mind Studios will be self-distributing the Show Devils Comic book at http://www.mothermindstudios.com/comic. Interested retail and wholesale outlets or press should contact dan(at)mothermindstudios(dot)com for more information.
About Mother Mind Studios
Visual artist Daniel Crosier, director/producer Dane Bernhardt, photographer/graphic artist Norman Dillon, writer Cuyler Mortimore, editor Jose Medina, director Stephen Santa Cruz, and Denver DigiFest director/producer Mike Hance joined together in 2012 to create Mother Mind Studios, LLC. Mother Mind Studios is a new digital media company that specializes in creating artistic and compelling marketing solutions for local businesses in Colorado, while also developing, producing, marketing, & distributing feature films. In addition Mother Mind Studios will also develop and publish comic book and print materials featuring original content For more information visit http://www.mothermindstudios.com.