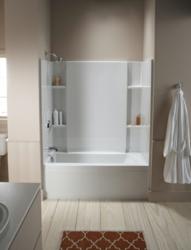 Modern manufacturers are constantly finding new and innovative ways to give the old standby bathroom shower combo a slightly more designer air, and provide a little luxury comfort and flair.
(PRWEB) September 26, 2012
HomeThangs.com – the Home Improvement Super Store has made their goal to deliver the right product to the consumer, with that in mind, shopping and home design tips, as well as special product selections are being introduced.
HomeThangs.com introduced a wide selection of bathtub and shower walls combinations, offering a great cost effective solution for bathrooms that are not big enough to accommodate a separate tub and shower. Also, a tip sheet has been introduced, in order to help the consumer get one he would really enjoy, that will both look good and last a long time.
1. One of the key drawbacks of most bathtub shower combinations is that they remove a lot of choice in terms of the type of tub to get. Depending on the model, that can mean exactly the opposite of a luxury bathroom remodel – tubs that are too short, too shallow, or both. But shower tubs don't just cater to the apartment crowd. It's entirely possible to find bathtub shower combinations that have almost as much soaking room as a large soaking tub. One might not be able to get a built in whirlpool tub, but one can at least get something like Accord Shower Tub by Sterling for example, that has an impressive 20 inch apron and enough room to stretch out and enjoy a bubble bath.
2. Those who are particularly lamenting not being able to have a separate shower and tub, should think about it this way: with a shower tub combo, one might not be getting the sprawling soaking tub one wants, but this option offers a much larger shower space than building a separate shower in a small bathroom. If space is a factor, chances are that taking up the room needed for a freestanding tub would leave one with maybe enough room for a very tiny shower. A bathtub shower combination, like Acclaim Shower Tub by Sterling for example, offers much more room to move around when taking a daily shower.
3. Historically, bathtub shower combinations are made of a single piece of shaped acrylic or fiberglass, which is just about as uninteresting looking as it is difficult to install. But more recently manufacturers have begun to address both issues, selling shower tubs in multiple pieces (the side walls, back wall, and tub) that can be moved separately and interlock to be perfectly water tight. Pieces that, maybe more importantly, have a faux-tiled finish on them. For example, many shower tubs from Sterling are made of color-bonded Vikrell acrylic in a variety of colors, and many of them have a glazed, imprinted tile pattern.
4. The tile designs come in a variety of shapes and sizes, like Accord Shower Tub by Sterling, for example, with "tiles" as small as about an inch to ones that are a little more than a foot square, so even if one can't completely customize the shower tub with the favorite Italian marble, one can at least get a look that to like, and that's more finished than a smooth, unadorned acrylic surface. It's a seemingly small difference that can have a big impact on the way the bathroom ends up looking, especially if a glass shower door is installed, rather than a shower curtain. Together, a good shower tub and a glass shower door make for a clean finished space that will look like a much bigger investment without actually being one.
5. Plus, many newer bathtub shower combinations, like Ensemble Shower Tub by Sterling, for example, also come with built in shelving or storage, making it easy to keep the shower organized without the clutter of a lot of temporary shower caddies or wire racks. And because the shelves are integrated into the body of the shower wall itself, the look is seamless and streamlined.
6. Something else to consider is that many bathtub shower combinations are now being designed with an eye toward an aging population. The ADA Approved Acclaim by Sterling, for example, is actually a pretty cool design, with a shower seat that locks firmly into place, but that is lightweight and easily removable. This bathtub shower also comes with built in shower bar reinforcements.
Modern manufacturers are constantly finding new and innovative ways to give the old standby bathroom shower combo a slightly more designer air, and provide a little luxury comfort and flair.
HomeThangs.com is not only a home improvement superstore, it also provides expert design tips and a comprehensive shopping guide, taking the ideas from professional interior designers, and offering tips to the consumers on how to pick the products to best suit their needs.