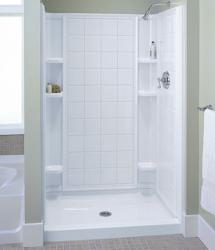 Shower walls come in many different sizes, styles and designs to look great in any bathroom.
(PRWEB) October 03, 2012
HomeThangs.com – the Home Improvement Super Store has made their goal to deliver the right product to the consumer, with that in mind, shopping and home design tips, as well as special product selections are being introduced.
HomeThangs.com introduced a guide to shower walls to help consumers find the one to fit their needs. Although, sometimes underappreciated, shower walls come in many different sizes, styles and designs to look great in any bathroom.
1. Very Small Bathroom
First and foremost, small, corner-style shower stalls offer the absolute most compact bathing option one can get. Even regular small square-shaped shower walls take up more space than a corner-oriented shower stall. That means that some shower stalls offer the ability to turn a half bath into a 3/4 bath without taking up much space and on a relatively small budget. This is a fantastic solution for a growing home, if more places are needed for people to bathe but adding another full bathroom isn't an option. And because it's a project that's much easier to install than a fully tiled shower, it can be done quickly as well as inexpensively.
2. The Just Big Enough Bathroom
Having a separate shower and bathtub is typically considered very desirable, if only because it offers more flexibility in selecting and designing both. In a master bath, it also adds usability if both fixtures ever need to be used at once. But installing a full sized tub and a full sized shower takes a lot more space than most people have. So it might be worth, again, considering very compact shower stalls like the Intrigue New-Angle Shower Wall by Sterling, for example, to get all the functionality of a shower without taking up too much floor space.
3. Budget Conscious Big Bathroom
If it's the budget, not the space, that's limiting, choosing larger shower stalls like the High Gloss Shower Wall Kit from Swanstone, is a good way to help stretch the dollar during a major remodel. It is important to decide what's most important. Before beginning, it is important to prioritize which luxury items the most desirable and which ones are most likely to be used. But if heated floors or a whirlpool tub comes up higher on the list than a mosaic tile shower, full sized shower stalls will offer all the functionality needed while saving on the extensive construction, the cost of tile, and the hassle of installation.
One can even get shower walls like the that are designed to look tiled, with built in grooves and colored, glazed tile faces, but without the hassle of actually doing any tile work, and without any grout to clean, like Ensemble Alcove Shower by Sterling, for example. This can create the appearance of a more finished, traditional tile shower stalls without nearly the same impact on the bottom line of the bathroom budget.
4. Cost Effective Custom Shower
In addition to the stylized tile shower walls, one can also find shower stalls – especially those from Swanstone – that are made of a colored, bonded resin to resemble stone. Admittedly it's not the same as having a marble shower enclosure, but if looking for something that isn't white, almond, or biscuit, it's a good way to get a more varied look. Something like the Veritek Shower from Swanstone will add a little color and a little texture to the bathroom, while still keeping the budget open.
5. Managing Limited Mobility
Where shower stalls and shower walls really stand out the most, though, is for people with limited mobility. The ability to tend to the hygiene is supremely important for independent living, but an average bathtub can be difficult to get in and out of. Shower stalls and full sized shower walls can be equipped with a variety of easily accessible and mobility-enabling features. Depending on the model, some can be installed level with the floor, eliminating the need to step up into the shower. And Sterling offers a whole line of ADA approved shower stalls like the Accord Age In Place Shower Wall for example, that come with seats that lock in place when needed or easily removed, and built in backing so that grab bars can be installed.
HomeThangs.com is not only a home improvement superstore, it also provides expert design tips and a comprehensive shopping guide, taking the ideas from professional interior designers, and offering tips to the consumers on how to pick the products to best suit their needs.