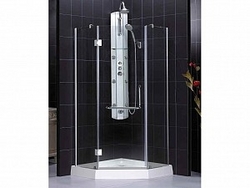 San Diego, CA (PRWEB) January 30, 2009
As a first-rate online store for all things bathroom showers, Unlimited Showers is proud to bring in a brand new shower model called the "Frameless Glass Shower Enclosure". It can add an incredibly sleek look and feel to your bathroom space. At nearly $2,000 off the original retail price and free in home shipping for February, you will not find a better discounted buy.
This special frameless glass shower enclosure is absolutely majestic, standing a commanding 72-inches tall and 35-inches wide. If you would like, this unit is also available in a wider size that spans 38-inches. Spaciousness and comfort will no longer be an issue. The enclosures of these stunning showers are composed of crystal clear, 3/8" thick tempered glass that are bordered by anodized aluminum profiles. The hinges and door handles that hold the partitions together are a sturdy stainless steel that complements the transparent glass beautifully while remaining durable and rust-resistant.
Perhaps the most distinctive feature about these frameless shower stalls is the fact that their shower doors are constructed to be reversible. You can either open them to the right or left and close them with a full length magnetic door latch. On the floor you will find a resilient fiberglass reinforced acrylic for the base tray. Fiberglass is the preferred material for these kinds of units because it is both low maintenance and high performance. It will take little time and effort on your end to preserve its pristine condition. It'll also allow any furniture piece to last you for many years to come. On top of that, the five sided construction makes it a prime vessel for simple corner installations.
The frameless shower enclosures from Unlimited Showers are unique in that they are incredibly versatile. They are elegant without being too dramatic or imposing. The smooth edges and simple lines give the homeowner an impression of seamlessness that is so vital to the luxury shower experience. When you take a shower, concentrating about the encasement that you are in can be distracting. You should be focusing on the sensation that you feel within those walls. This one-of-a-kind shower can help you achieve that transcendence that you need. You will able to find this special frameless shower enclosure along with a wide variety of other models of bathroom showers at Unlimited Showers' comprehensive online store.
About Unlimited Showers:
Unlimited Showers is the online shopping source for everything showers. Whether you want to replace the entire shower, or just parts of it, you can find anything you need. They offer a fantastic selection of discount steam showers, jetted showers, shower enclosures, shower columns, shower doors, and shower trays. With different designs for every unique bathroom such as sliding door showers, fiberglass showers, frameless glass showers, acrylic showers or glass showers, Unlimited Showers strives to give customers the wide selection they need to upgrade their homes. Unlimited Showers offers quality showers and accessories at low prices and a great customer service experience.
###