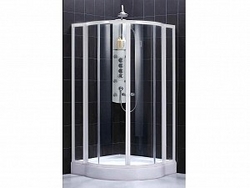 San Diego, CA (PRWEB) August 28, 2008
Unlimited Showers is happy to announce the release of their new contemporary sliding door shower enclosure for practical use and beauty in the bathroom. Many people are choosing to upgrade their shower stalls and shower heads instead of opting for the full bathroom remodel, and this beautiful glass shower enclosure is a stylish and practical response to the demand for top of the line shower enclosures online to upgrade home bathrooms.
This great new "Destiny" shower enclosure offered by Unlimited Showers is one of many new bathroom shower stalls. Because it is often cheaper and just as effective in a bathroom upgrade to replace only the old grimy shower stall with a new shower enclosure, these shower enclosures are in high demand during these tighter economic times. This shower enclosure is designed to be installed against a finished tile wall and is available with chrome or white accents. It's constructed to be very accessible and functional, with two clear tempered glass sliding doors. A fiberglass reinforced acrylic base tray is included with the enclosure, which completes the chic and sleek look. If you would like to replace your shower entirely, there is a matching shower head or shower column available for the full remodel.
This ultimate "Destiny" glass shower enclosure is one of many luxurious new models available on the Unlimited Showers shower store website: unlimitedshowers.com. Unlimited Showers is proud to have this new top of the line glass and acrylic shower enclosure in their collection of bathroom showers, jetted showers, steam showers, shower enclosures and shower accessories. As the demand for exceptional luxury showers and shower accessories for bathroom remodel projects increases, the quality and selection shower specialists offer should meet the demand with zeal.
About Unlimited Showers:
Unlimited Showers is the online shopping source for everything showers. Whether you want to replace the entire shower, or just parts of it, you can find anything you need. They offer a fantastic selection of discount steam showers, jetted showers, shower enclosures, shower columns, shower doors, and shower trays. With different designs for every unique bathroom such as sliding door showers, fiberglass showers, frameless glass showers, acrylic showers or glass showers, Unlimited Showers strives to give customers the wide selection they need to upgrade their homes. Unlimited Showers offers quality showers at low prices, with free shipping in the continental U.S., and a great customer service experience.
###