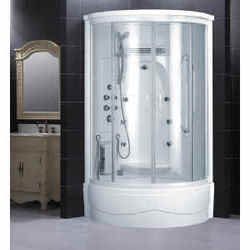 San Diego, CA (PRWEB) June 27, 2008
Unlimited Showers is happy to announce the release of their new luxury steam shower with a mini bathtub to give the ultimate spa shower experience in the privacy of home. The accessories included with these type of top of the line showers are changing the way people think about what to expect of a home shower.
This isn't just your run of the mill home shower with a showerhead trickling down on you. This new Oceana style steam shower features a mini bathtub with waterfall filler, a foot massager with jets, individual water control diverters, wall mirror and accessory compartments. This extraordinary steam shower is personalized with an acrylic roof "tropical rain" shower, seven adjustable body water jets and an acrylic back wall with an integrated seat for comfort and convenience in a chic shower enclosure. An integrated thermostatic valve provides a constant pleasant water temperature for each shower session. The steam kit really completes the luxurious relaxation this shower has to offer, and steam has very well reputed health benefits. This steam shower with a mini bathtub will give you the best of both worlds whether you want a quick shower or a relaxing soak in the tub. It will transform your standard bathroom into a home spa, and is changing the way people think about installing new showers in home improvement projects.
This ultimate steam shower is one of many luxurious new shower models available on the Unlimited Showers website: unlimitedshowers.com. Unlimited Showers is proud to have this new top of the line glass and acrylic shower in their collection of bathroom showers, jetted showers, steam showers, shower enclosures and shower accessories. As the demand for exceptional luxury showers for bathroom remodel projects increases, the quality and selection shower specialists offer should meet the demand with zeal.
About Unlimited Showers:
Unlimited Showers is the online shopping source for everything showers. They offer a fantastic selection of jetted showers, steam showers, shower enclosures, shower columns, shower doors, and shower trays. With different designs for every unique bathroom such as sliding door showers, fiberglass showers, frameless glass showers, acrylic showers or glass showers, Unlimited Showers strives to give customers the wide selection they need to upgrade their homes. Unlimited Showers offers quality showers at low prices, with free shipping in the continental U.S., and a great customer service experience.
###