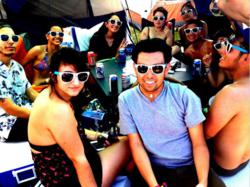 ShowScoop taps into the wisdom of crowds and allows you to see quantitatively how an artist performs across a spectrum of categories.
Indio, CA (PRWEB) May 03, 2012
In the blistering heat of the Southern California desert at the Coachella Music and Arts Festival, festivalgoers were buzzing about a new music-based Internet start-up called ShowScoop, a startup for concert reviews targeted at music lovers and concertgoers. According to CEO Micah Smurthwaite, ShowScoop - which is currently accepting invite requests - is comparable to a "Yelp for concerts," and is a network where users can rate and review artists, concerts and music festivals they have seen or attended.
"We've all been to shows where we were disappointed in a live performance, or surprised how good an artist is live," said Smurthwaite. "ShowScoop taps into the wisdom of crowds and you can see quantitatively how an artist performs across a spectrum of categories. We use review sites for so many purchasing decisions; why aren't we using review websites for concerts?"
At Coachella, the ShowScoop team distributed pairs of branded blue-and-white sunglasses and packs of sunscreen to eager music fans.
"If you came to Coachella and forgot sunglasses or sunscreen, it would ruin your weekend. We wanted to hook people up with what is most valuable in the desert," said Smurthwaite.
The response to the free merchandise was overwhelmingly positive, with 5,000 pairs of sunglasses given out to festival attendees trying to survive the heat. By the end of the festival's third day, the glasses were worn throughout the venue, impossible to miss with their bright colors and the ShowScoop logo proudly emblazoned on the side.
In addition, ShowScoop's promotional efforts initiated a substantial social media presence. With over 750 Facebook Likes generated since the beginning of the festival, ShowScoop's social media influence has reached more than 15,000 people, according to Facebook analytics. Along with Facebook, the website also launched platforms on Twitter and Instagram.
"The power of social media is in making those connections and building a real network. Using each of these social platforms has created that instant network for ShowScoop, and hopefully our visibility compounds in the future," said Smurthwaite.
###
ShowScoop is an online concert-going community based in San Diego, Calif. that allows users to keep track of and review concerts, artists and festivals they have attended, as well as create a music network to see their friends' reviews.
Media Contact: Glenn Rowley
growley(at)showscoop(dot)com
435-216-2820
Website: http://www.showscoop.com
Facebook: http://www.facebook.com/showscoopusa
Twitter: http://www.twitter.com/#!/ShowScoop