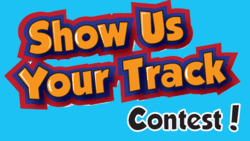 Children always astound us with their amazing creations
(PRWEB) August 18, 2011
Show Us Your Track, a new children's building contest using K'NEX Mario Kart Wii building sets, will award 10 lucky winners $100 Toys 'R' Us gift cards.
The Show Us Your Track contest challenges young builders ages 6 – 12 to create their own unique and exciting track layout using the new K'NEX Mario Kart Wii building sets. Upon completing their layout kids are asked to submit three photos and a paragraph or short video highlighting the track's unique features online at http://showusyourtrack.com. 10 winners will be chosen based on creativity, uniqueness and detail.
"Children always astound us with their amazing creations," said K'NEX President and CEO Michael Araten. "We can't wait to see what they build with the new K'NEX Mario Kart Wii sets and look forward to rewarding their creativity."
The new K'NEX Mario Kart Wii building sets are available at Toys 'R' Us stores nationwide and online at http://www.toyrus.com. K'NEX Mario Kart Wii products include characters, interconnectable track, buildable vehicles and obstacles from the Mario Kart Wii game. The sets are designed for children ages 6+ and combine the K'NEX building system with beloved characters from Mario Kart™ Wii, bringing them from the video screen to the construction aisle for the first time.
This contest runs through January 15, 2012. It is open to children ages 6 - 12 and requires parental consent. For more information, rules and to enter visit http://showusyourtrack.com/ or scan the QR Code located on Mario Kart product displays at Toys 'R' Us stores. No purchase necessary.
About K'NEX Brands
Founded in 1992, K'NEX Brands, the world's most innovative construction toy company, was established to make and sell what has become one of the world's leading integrated construction systems for children. Winner of over 200 international awards and recognitions, K'NEX is America's building toy company focused on Building Worlds Kids Love, and encourages youngsters to "imagine, build and play." Since 1992, The Rodon Group, a subsidiary of K'NEX Brands, L.P., has manufactured over 30 billion parts for the K'NEX building toy system.
###