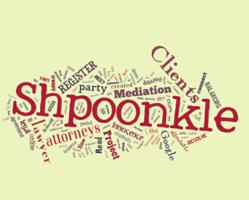 So do you Shpoonkle?
Miami, FL (PRWEB) September 08, 2011
Shpoonkle announces today the first of many fun and entertaining ads in a series to help promote the Shpoonkle brand. Commenting on the creation of this new marketing campaign, Shpoonkle CEO Robert Niznik said: "I'm excited to have such a creative group working with us to get the Shpoonkle message out to the public."
Windy Weather Films came to the attention of Shpoonkle as a contestant of their first Video Contest in the summer of 2011. The team at Windy Weather Films rallied to the contest opportunity, and now has teamed up with Shpoonkle to help promote its new Advertising Campaign. This innovative campaign will inform and entertain viewers about the popular new legal services site.
Fans can learn more about the cast and crew of these videos by either visiting shpoonkle.com or http://www.windyweatherfilms.com. The next video is scheduled to premiere on Friday, September 23rd between 7am - 8am EST on the Balancing Act on Lifetime. For more information, visit: thebalancingact.com and follow Shpoonkle on Twitter at twitter.com/shpoonkle and/or Facebook at Facebook.com/shpoonkle.
Windy Weather Films is a great match for the Shpoonkle site as the "efforts are fresh, new, and exciting," said Niznik, CEO of Shpoonkle. "These ads present Shpoonkle with an opportunity to personalize our messaging and extend our reach, ultimately helping more people who need affordable legal services."
Shpoonkle is a free reverse auction legal services marketplace. The successful start up has exceeded 4000 members since its launch in the Spring of 2011. The company launched services in Canada in August of 2011 and plan to service other countries by the end of this calendar year. Shpoonkle's marketing efforts, information, and services are capturing the attention of a global audience of lawyers and clients as consumers.
For more information, Press only:
Robert G. Niznik is available for interviews, for more information please contact D. Morgan, 305-712-2822, and/or Dani(at)shpoonkle(dot)com.
For more information on Shpoonkle:
http://www.shpoonkle.com/pkit
About Windy Weather Films:
Los Angeles Based Production Agency
windyweatherfilms.com
About The Balancing Act:
The Balancing Act TV show is produced by O2 Media, Inc. and airs on Lifetime Television daily at 7:00am (ET/PT). The Balancing Act is a show that is about women, for women and trusted by women. For information, TheBalancingAct.com.
# # #