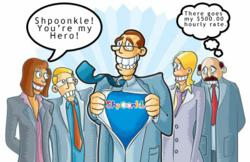 The equation is simple – there is a need and Shpoonkle has a solution.
Miami, Florida (PRWEB) October 19, 2011
A growing legal movement is spreading across the globe. Consumers want to be empowered either by having the option to do it themselves or to get affordable help for legal problems online.
Many skeptics are critical of people helping themselves, yet they are not providing alternate solutions as to how consumers can counter the incredibly high legal costs for quality representation in a depressed economy. Shpoonkle is the safety net between clients' totally doing it themselves legal services, and paying exorbitant legal fees.
Clients on Shpoonkle are not acting as their own attorneys. They are actively looking for lawyers to help them at a price they can afford.
Shpoonkle promotes more interaction and communication between lawyer and client. Consumers don't want to face a blank check outcome for resolving their legal issues, especially simpler and basic ones. Clients want a fixed fee structure and/or the lawyer to set the expectation very clearly as to what the legal resolution will cost them. Most lawyers and law firms are fiscally capable of offering affordable services to clients if presented with a medium and the technology to deliver it.
Shpoonkle provides a process so that clients can engage in a competitive market scenario with their legal provider. Many attorneys are trying to find clients and work. "The equation is simple – there is a need and Shpoonkle has a solution," states Shpoonkle CEO Robert Niznik.
Why are so many legal "experts" scoffing at Shpoonkle or the concept of online legal services? Reason number one, the people shouting the most are the people who have the most to lose. They are the folks making in excess of $500 an hour for legal services. Reason number two, critics include many of the "old guard" of the legal profession who are resistant to ANY change. Just a few years ago, many professionals didn't even know or use social media. Now almost every major company and professional has a LinkedIn account or a Facebook page.
The same attorneys or "De facto" legal gatekeepers, who are slurring online legal services that save consumers money are doing so from their twitter, blogs, or websites. It seems contradictory to say to a client, its "ok" for a lawyer to attract clients via his web site, but if you can get a better price by going through someone else web site – it's a lousy idea.
Shpoonkle is a perfect example of a disruptive model in a decentralized legal industry. The technology has met the market demand, and Shpoonkle is a fully performance –competitive model for legal services within a mainstream market, against established methods and services. Shpoonkle's business model implements the theories discussed in Clayton Christensen's "The Innovator's Dilemma" where "product choice (aka legal services) evolving from functionality to reliability, then to convenience, and ultimately, to price."
Shpoonkle is the free greeting cards found on the internet to the critics printed card.
Shpoonkle is creating a value network because consumers need change.
The established Legal Marketplace is taking the needs of the industry as a given, an entitlement, where Shpoonkle is not. Shpoonkle is disrupting that mind set with an affordable, reliable, and more convenient solution. Our critics are disrupted, from poking fun at our name to criticizing the people who might use our services. Good news, the bullies always lose in the end.
Shpoonkle may have a funny name, and it may not be a flavor that fits everyone's taste, but the bottom line is that it's free and it's working to help people. When was the last time someone offered you a free way to find clients or to save money?
Shpoonkle and Shpoonkle Canada are either registered trademarks or trademarks of Shpoonkle, LLC. in the United States and/or other countries. The names of actual companies and products mentioned herein may be the trademarks of their respective owners.
For more information, Press only:
D. Morgan, 305-712-2822, info(at)shpoonkle(dot)com
Please view Shpoonkle's Press Kit: http://www.shpoonkle.com/pkit
For more information on Shpoonkle:
http://www.shpoonkle.com
###