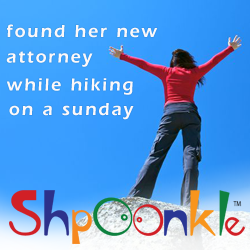 "At Shpoonkle, we help resolve these issues by connecting women with attorneys that fit their budget."
Miami, Florida (PRWEB) November 21, 2011
Shpoonkle™ joins "The Balancing Act" to offer an innovative way to find an attorney at an affordable rate. Make sure to tune into this special 'myEmpowerment' edition of "The Balancing Act," November 22nd at 7:00am (ET/PT) airing on Lifetime Television.
Special guest Robert Niznik, CEO of Shpoonkle also joins the show. "The fact that lawyers already cost more than most people can afford, and women are earning significantly less than men, the burden of getting a lawyer is even greater for women. Shpoonkle provides women with a fair and balanced playing field and offer the same access to women as we do to men," says Niznik.
Shpoonkle offers a web based application that can be accessed from anywhere and is able to reach out to attorneys in a specific area. Their site connects clients, attorneys, mediators, arbitrators and even law students. How does it work? Niznik explains, "Clients post legal issues for lawyers to view and then attorneys bid on the posted cases. From there, the client selects a lawyer for a price that fits their budget. This process is done through a reverse auction. Reverse auctions work because the bidders (attorneys) compete against one another-- causing the price to drop."
"Appearing on "The Balancing Act" is a great platform to show how we provide the same access to women as we do to men. Women who are balancing their family and a career can make up the time they spend out of the office, by finding clients from their home," he adds. "At Shpoonkle, we help resolve these issues by connecting women with attorneys that fit their budget."
For more information, go to http://www.Shpoonkle.com.
For more information, Press only:
Robert G. Niznik is available for interviews, for more information please contact D. Morgan at: Dani(at)shpoonkle(dot)com.
For more information on Shpoonkle:
http://www.shpoonkle.com
About The Balancing Act
"The Balancing Act" TV show is produced by O2 Media, Inc. and airs on Lifetime Television at 7:00am (ET/PT). "The Balancing Act" is America's premier morning show that's about women, for women, and trusted by women. For information or to view a show, visit http://www.TheBalancingAct.com.
###