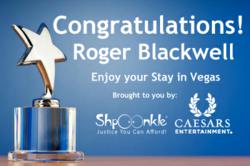 Congratulations to Shpoonkle Contest Winners.
Miami, FL (PRWEB) January 23, 2012
Shpoonkle is pleased to announce the winners of our two 2011 Shpoonkle Holiday Contest. The unprecedented response has been amazing, and wants to thank all of the entrants for their participation.
Shpoonkle is the leading provider of free services for consumers, legal professionals, and law students. This was Shpoonkle's first Holiday Contest campaign. The campaign was offered in two parts, with a chance to win five $100 Amazon Gift Cards as prizes. The second part was a contest for the best legal story and/or experience. The campaign began November of 2011 and ran through January 15th, 2012.
To enter the first contest, contestants had to only register on http://www.shpoonkle.com/contestpage for a chance to win one of the five $100 Amazon Gift Cards. Entries were accepted until December 23 rd. at 11:59 P.M. A random selection was made from thousands of entries. Lucky winners were emailed their $100 Gift Card on December 24th, just in time for a very happy holiday.
Shpoonkle would like to congratulate its Gift Card winners: Pamela Hansen, Robert Hoffman, Michelle Wong, Stephanie McFarland, and Laura Royal.
The second contest, Shpoonkle's National Contest for "Make a Difference Day" began in November and ended on January 15th, 2012. The lucky winner was chosen by story content and the number of votes they received on their entry. Roger Blackwell won a 3 Night Stay at Caesars Palace in Las Vegas.
Shpoonkle is leading the Legal Services Marketplace as a provider for affordable legal services. The start-up has met unprecedented success and is empowering consumers to make justice affordable while delivering highly relevant legal services on the site to consumers, legal professionals, and law students. Shpoonkle contests are intended to promote free services and also thank new and existing members for building brand loyalty.
Shpoonkle is paving the way for affordable justice around the globe on the internet. Shpoonkle has been selected as MSNBC's Web site of the week, INC.com's "10 New Web Tools to Make Life Easier," and Chicago Tribune top "100 new sites, apps that might be worth consuming." It also received accolades from MSNBC in late December as a "Website of the Week."
Please check Shpoonkle for upcoming exciting contests in February. Shpoonkle is a proud sponsor of Jim McMahon's 2012 Swang "N" Super Bowl Charity Bash in Indy. Shpoonkle members will receive a discount to attend this event, for details please visit: http://www.shpoonkle.com/superbowl
For more information, Press only:
Robert G. Niznik is available for interviews, for more information please contact D. Morgan, 305-712-2822, and/or Dani(at)shpoonkle(dot)com.
For more information on Shpoonkle:
http://www.shpoonkle.com
###