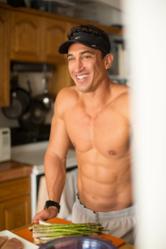 ... at the end of the day if you're not eating right you can never out train a bad diet.
Los Angeles, CA (PRWEB) December 05, 2012
In today's online multimedia world consumers are bombarded with fad diets and hip new workout routines that, despite their promises of almost instant results usually leave consumers disappointed and feeling defeated. However, celebrity trainer and fitness cover model Diego Sebastian's new Shredded Abs App will help people gain the results they're looking for without gaining that feeling of disappointment – if they're willing to work hard that is.
"People ask me every day, how do I get a six-pack or what is the shortcut to six-pack abs. The truth is there is no shortcut, just hard work." Says Sebastian. "With Shredded Abs you get a personal trainer inside of your smart phone with instructional videos on everything from diet and nutrition to detailed workout routines."
While it's no secret that Sebastian spends a lot of time in the gym some may be surprised to learn that he is also no stranger to the kitchen. In fact, according to the man with the world's most "shredded abs" the journey towards getting the perfect body actually begins in the kitchen. "70 percent of the battle is won in the kitchen," says Sebastian. "Yes you can work out and develop your abs and sculpt your abs but at the end of the day if you're not eating right you can never out train a bad diet."
The Shredded Abs App will be available soon but for those looking to get a head start on their journey Diego Sebastian offers up these three diet rules:
1. Eat your body weight in grams of protein every day.
2. Hydrate, hydrate, hydrate! Then – drink more water.
3. Eat several small meals throughout the day - spreading your protein intake from
morning to night.
Following these three rules will boost metabolism and keep the body in fat burning mode longer and more frequently.
Diego Sebastian is a internationally known fitness cover model and celebrity trainer whose groundbreaking Shredded Abs App will be launching this month.