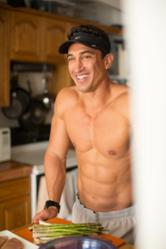 The most important thing is to not starve yourself... Eat small meals and sample everything
Los Angeles, CA (PRWEB) December 11, 2012
With the New Year rapidly approaching, 2012 isn't the only thing coming to an end. The arrival of the holiday season also marks the end of most people's diets. But those hoping to survive the holiday season with their diets intact have a new ally - the Shredded Abs app. Created by renowned celebrity trainer and fitness cover model Diego Sebastian, Shredded Abs puts a personal trainer inside of your smart phone.
Launching on December 15th, Shredded Abs contains detailed HD video instructions on everything from workouts to diet and nutrition. Unlike other fitness apps on the market, Shredded Abs consists of a high quality no nonsense approach to workouts by one of America's premiere personal trainers, Diego Sebastian.
The endless gatherings and get-togethers make the holiday season one of the toughest times of the year to start or stay on a diet, but Diego has a few suggestions for those hoping to survive the holidays with their diet intact:
"The most important thing is to not starve yourself, because then you'll only binge on party food. Eat small meals and sample everything, and go easy on the alcohol. The ideal holiday meal is turkey, no gravy, plenty of veggies and no stuffing. When I want to splurge, I'll have a slice of apple pie, but no ice cream."
And for those hitting the road this holiday season, Diego recommends taking along some resistance bands. "Bands are great for circuit training and overall body pump if you don't have access to a gym. There are so many different exercises you can do with them."
Aside from the gym, a major part of achieving Shredded Abs is adhering to a whole grain high protein diet. "70 percent of the battle is in what you eat, you can never out train a bad diet," says Diego. But for those who don't have time to cook Diego recommends a meal delivery service such as Battalion 4 Food that delivers gourmet meals prepared without the high amounts of sugar, fats, or sodium found in most restaurant meals.
Diego Sebastian is an internationally known personal trainer and fitness cover model. The Shredded Abs app will be available December 15th.