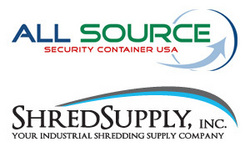 We believe in a commitment to offering the most business options possible to our customers while maintaining competitive pricing. This allows our customers to stretch their dollars further without sacrificing on quality when it comes to shredding trucks, equipment and marketing services.
Spokane, WA (Vocus) April 22, 2010
As of March of this year, ShredSupply and All Source Security Container USA will be offering a single source solution for everything shredding. Customers can now get the business start-up and maintenance packages they need to build a successful business without having to go to three different suppliers to get it.
The partnership creates an opportunity for those getting into document destruction to benefit from professional, fully integrated business solutions at an affordable price. Customers can now fulfill their shredding truck, container, marketing and financing requirements all under one roof. The services are customizable and also ideal for the current document destruction companies looking to expand.
Shredding service providers can now team up with industry leading suppliers and benefit from their experience in the document destruction sector. They can get the quality mobile document shredding trucks, warranty and financing solutions ShredSupply is known for. They can also gain from the dependable security containers All Source Security Container USA is the industry leading manufacturer of. Lastly, shredding companies can sign up for the renowned marketing services of NetGain SEO. NetGain specializes in building web solutions that get noticed and found online.
The partnership was created out of the value found in merging the services. These are very changing and challenging economic times. Document destruction companies are looking for competitive advantages that support, build and promote their business while also saving them money. The All Source / ShredSupply solution creates that advantage for shredding companies.
Rocky Rajewski, President & CEO of ShredSupply, notes "We believe in a commitment to offering the most business options possible to our customers while maintaining competitive pricing. This allows our customers to stretch their dollars further without sacrificing on quality when it comes to shredding trucks, equipment and marketing services."
###