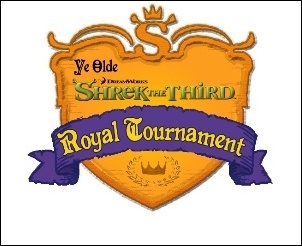 Hillshire Farm Presents Dronkey Breath
NEW YORK (PRWEB) April 27, 2007
Each day, players of "Ye Olde Shrek the Third Royal Tournament" will face a new set of challenges -- 25 games in all, over the course of the Tournament. Kids and parents who play will have a chance to win exciting prizes, such as plasma TVs, console systems, video games, hats, t-shirts and more. The Tournament's grand prize winner will receive a trip for four to Hollywood, CA, where they will stay at Universal Studios Hollywood and have a "behind-the-scenes" exclusive DreamWorks experience.
"Shrek is one of the most successful animated franchises of all time, and we are thrilled to partner with Mark Burnett and DreamWorks Animation to launch an addictive and fun game based on this fan favorite," said Bill Wilson, Executive Vice President of Programming, AOL. "AOL is honored to offer this game to Shrek fans across the country as they anxiously await the film's third installment."
"This unique and immersive on-line environment allows fans of all ages to connect and interact with all of their favorite Shrek characters and get to know our new cast of characters from 'Shrek the Third,'" said Jeffrey Katzenberg, CEO, DreamWorks Animation. "And on top of that, they will have a chance to win some great prizes along the way."
"We're excited to partner with AOL and my friend Jeffrey Katzenberg with the creation of a revolutionary interactive gaming experience 'Ye Olde Shrek the Third Royal Tournament'," said Mark Burnett. "Parents and children alike will have the opportunity to absorb the characters and new plots before the movie even hits the theaters."
"Ye Olde Shrek the Third Royal Tournament" debuts with four challenges:
-- "Hillshire Farm Presents Dronkey Breath" -- Help the Dronkey clear the skies over Far Far Away of enchanted flying broomsticks launched by Prince Charming.
-- "Eyeball Dropper" - Shrek wants to make some delicious eyeball soup and needs help organizing his eyeball jar.
-- "Damsels on the Lam" - Prince Charming has taken over the castle and the Princess needs your help to find an escape route.
-- "GingerWear" - Gingy and his friends are getting ready to go on a cruise and need fashion advice. It's the most delicious makeover ever!
Hillshire Farm, the premier meat brand of Sara Lee Food & Beverage is one of the sponsors of "Ye Olde Shrek the Third Royal Tournament."
About Shrek the Third
When Shrek married Fiona, the last thing he had in mind was becoming the next King. But when Shrek's father-in-law, King Harold, suddenly croaks, that is exactly what he faces. Unless Shrek (with the help of his trusted companions Donkey and Puss In Boots) can find a suitable King for Far Far Away, the ogre could be stuck with the job. The most promising candidate, Fiona's cousin Artie, an underachieving Medieval high school slacker, proves to be more of a challenge than they bargained for.
DreamWorks Animation S.K.G. Presents a PDI/DreamWorks Production, DreamWorks "Shrek the Third," which is being distributed by Paramount Pictures. Directed by Chris Miller, the film features the voice talents of Mike Myers, Eddie Murphy, Cameron Diaz, Antonio Banderas, Rupert Everett, Justin Timberlake, Julie Andrews, John Cleese, Eric Idle, Cheri Oteri, Amy Poehler, Maya Rudolph, Amy Sedaris, John Krasinski and Ian McShane. The story is by Andrew Adamson. The screenplay is by Jeffrey Price & Peter S. Seaman and Chris Miller & Aron Warner. The film is produced by Aron Warner and co-directed by Raman Hui. The executive producers are Andrew Adamson and John H. Williams. This film is rated PG for some crude humor, suggestive content and swashbuckling action.
About AOL
AOL is a global Web services company that operates some of the most popular Web destinations, offers a comprehensive suite of free software and services, runs the country's largest Internet access business, and provides a full set of advertising solutions. A majority-owned subsidiary of Time Warner Inc., AOL LLC is based in Dulles, Virginia. AOL and its subsidiaries also have operations in Europe, Canada and Asia. Learn more at AOL.com.
About DreamWorks Animation SKG
DreamWorks Animation SKG (NYSE:DWA) is devoted to producing high-quality family entertainment through the use of computer-generated (CG) animation. Utilizing world-class creative talent and state-of-the-art technological capabilities, the company is committed to making two computer-animated feature films a year that appeal to a broad movie-going audience.
About Mark Burnett Productions
Mark Burnett Productions (MBP) is a leading production company in content for both primetime television and the internet. MBP revolutionized television with hits such as Survivor (CBS), The Apprentice (NBC), The Contender (ESPN), Rock Star: INXS (CBS), the new smash hit Are You Smarter Than a 5th Grader? (FOX) and an upcoming co-production with Steven Spielberg and DreamWorks Television, On the Lot (FOX). Other MBP future projects include: Pirate Master (CBS) and the 2007 MTV Movie Awards (MTV) for which Mark Burnett will serve as Executive Producer. Burnett also serves as the Executive Producer of the syndicated daytime show "Martha." MBP recently partnered with AOL on the highly successful interactive adventure Gold Rush, the first-ever unscripted project to be produced exclusively for the internet. MBP has established a scripted division and is developing comedies and dramas for television as well as feature films. MBP also successfully reintroduced product placement as an integral part of each of its shows and has garnered a total of 46 Emmy nominations since 2001.