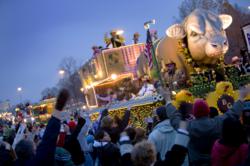 Now through Fat Tuesday, which falls on Tuesday, Feb. 21, visitors and locals alike can enjoy a diverse array of parties, parades, and special events.
SHREVEPORT-BOSSIER, LA (PRWEB) January 12, 2012
With the 12th Night Celebration held on Saturday, Jan. 7, Shreveport-Bossier officially marked the beginning of Mardi Gras season in the region known as "Louisiana's Other Side." Now through Fat Tuesday, which falls on Tuesday, Feb. 21, visitors and locals alike can enjoy a diverse array of parties, parades, and special events. The major parade dates for 2012 are Feb. 11 (Krewe of Centaur) and Feb. 18 (Krewe of Gemini). Both major parades roll at 4 p.m., following a route that includes Clyde Fant Parkway along the Shreveport riverfront, Shreveport-Barksdale Highway, and East King's Highway. According to a study prepared by the Center for Business and Economic Research at Louisiana State University in Shreveport, an estimated total of 400,000 parade viewers will attend these two parades, making Shreveport-Bossier's Carnival season one of the largest in Louisiana.
In addition to the major evening parades, Shreveport-Bossier offers a number of unique Mardi Gras events ranging from neighborhood celebrations to smaller, themed parades. The Krewe of Barkus and Meoux, a pet parade featuring hundreds of pets and their owners dressed in Mardi Gras finery, will march through downtown Shreveport's Riverview Park at 1:30 p.m. on Sunday, Feb. 12. Known as "the animal krewe," the Krewe of Barkus and Meoux often includes cats and dogs, as well as rabbits, ponies, chickens, and more.
The Krewe of Highland Parade, which rolls through Shreveport's historic Highland neighborhood at 2 p.m. on Sunday, Feb. 19, is known for being family-friendly (it occurs during daylight hours) and for its unique throws, which include items as unexpected as grilled hot dogs and SPAM sandwiches. The Krewe of Highland parade begins and ends at Byrd High School, 3201 Line Avenue in Shreveport, traveling a circular route through the Highland neighborhood.
The Krewe of Aesclepius Children's Parade, a parade geared towards families and children, will be held at 6:30 p.m. on Fat Tuesday, Feb. 21, at Pierre Bossier Mall, 2950 E. Texas Street in Bossier City. Shreveport-Bossier's Mardi Gras festivities will officially come to a close at midnight on Fat Tuesday with the Krewe of Aesclepius Texas Street Bridge Closing Ceremony, as visitors and krewe royalty meet at the center of the Texas Street Bridge to bless the bridge and bring Mardi Gras 2012 to a close.
For a complete listing of all Mardi Gras events scheduled to take place in Shreveport-Bossier, including information on parade routes, visit http://www.shreveportbossierfunguide.com and click "Mardi Gras in the Ark-La-Tex." To keep up with photos, video, and live reports from Mardi Gras in Shreveport-Bossier, follow the Shreveport-Bossier Convention and Tourist Bureau on Twitter at @sbctb. More information on things to see and do in Shreveport-Bossier can be found on-line at http://www.shreveport-bossier.org or by calling (888) 45-VISIT.
NOTE TO MEDIA: High-quality, print-resolution images of Mardi Gras festivities in Shreveport-Bossier may be requested by contacting Chris Jay at cjay(at)sbctb(dot)org or (318) 429-0658. Multimedia elements such as Youtube videos are also available.
###