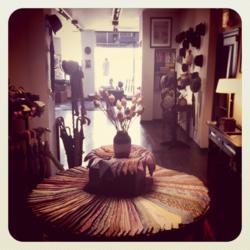 Exclusive, Rare, and Unusual
Chicago, IL (PRWEB) April 14, 2011
Shrine Haberdashery, a recently opened luxury men's boutique in Chicago is committed to offering the world's finest and most unique artisan-crafted men's accessories. Shrine's retail store has quickly become a fashion haven for some of the city's best-dressed men. Rafik, the owner, wanted to hand curate heirloom items and bring the experience he founds in various places including London, Paris, and Tokyo to the best dressed Chicagoans.
Some of the brands that shrine caries includes GLENN a Japanese jewelry maker that specializes in silver jewelry that combines smoked silver "Ibushigin" with gold, copper, and other colored metals. All GLENN jewelry are handmade solely from precious metals and hand-finished in Japan. Designs are original and modern but techniques benefit from traditional Japanese hammering and engraving methods such as those used for making ancient armor and kimono accessories. Some of the timeless techniques employed are "Nanakouchi", "Tsuchimeuchi" (hammering) and "Zougan" (inlaying).
Penrose is another of the finest handmade ties and neckties found, it offers Subtler, refined but with that innate love of vibrant color and sophisticated pattern. "These are lovely designs, that even a conservative like myself can wear I am sure everyone can find something for themselves," says Rafik, the founder of Shrine. These patterns were created from lace archives in France, church ceramics, wallpaper in Florence, Viennese water marks, tiles in Portuguese coffee shops – they are more elaborate than most – something that means the weavers down at Vanners in Suffolk take up to week to transfer them to the loom, where a standard pattern would take no more than a day. These ties can sure make you stand out in any crowds.
Shrine has also decided to carry leather items from a family based in Florence, Italy, that uses calfskin to hand make all of their leather accessories. The leather used is vegetable-tanned; this means that no chemical substances are used in its tanning, but only natural, environment-friendly ones. It takes 33 steps to produce one single coin case: initially the leather is cut by hand or with hollow punches, then after thinning and equalizing, it is dipped in warm water to make it elastic and malleable. Finally, the leather is put on moulds and left to dry for 8 hours, to reach the typical rigidity of "cuoietto fiorentino" which allows to assemble resistant objects without the need of stitches. Rafik believes that handmade luxury items will last generations and outlive you.
Shrine is also constantly looking for exclusive, rare, and unusual items from small artisans that make items the way it was made centuries ago.
# # #