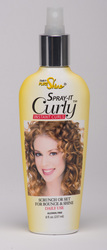 Labels play a significant role in consumer choice and influence buying behavior
Dawsonville, GA (Vocus) June 7, 2010
SleeveCo of Dawsonville, Georgia, proudly announces that they have been awarded the Golden Cylinder Award bestowed from GAA (GRAVURE ASSOCIATION OF AMERICA). SleeveCo is a leading company that manufactures stretch and shrink-sleeves for bottles and containers for some of the nation's top consumer goods companies.
SleeveCo is proud of receiving this award that the gravure industry awards annually to signify the the best of gravure printing with the presentation of the Golden Cylinder Award. Sleeveco's award was for Hask Pure Shine "Spray-It-Color labeling that helped to enhance its market appeal. SleeveCo is no stranger to awards. Sleeveco is one of the top shrink and stretch label manufacturers in the United States. Last year they won multiple awards including three awards from IAPHC for the artistic quality and market appeal of their products. They were awarded two Silver awards plus received the Gold award for Frank's RedHot Sauce Combo Pack. SleeveCo is a family owned manufacturer of shrink and stretch sleeve labels based in Dawsonville, Georgia. SleeveCo has been in business for over two decades and is proud to be working with some of the world's most recognizable and innovative consumer goods marketers.
Shrink and Stretch labels have increased in use by consumer brand marketers. Shrink sleeves offer 360-degrees of real estate and provide brand owners with a high image material that comes in a variety of shapes and molds. "Labels play a significant role in consumer choice and influence buying behavior", says Jyl Gryder (Marketing Director of SleeveCo). In addition to emotional appeal, their innovations have made shrink labels versatile attention grabbers. A product with a 360 degree wrap has the ability to break through consumer patterns and persuade a consumer often toward unintended purchases. Thus, labels help to increase the market exposure and awareness of a product.
Stretch-Sleeves are one piece, 360-degree, closed loop labels made from low density polyethylene. They are applied with special stretch sleeve equipment, which opens and stretches the sleeve onto the container, which then adheres (the label does not require adhesive which is the reason some companies choose this type label over pressure sensitive…the label uses a snug fit to keep in place-however you can word that) to the container utilizing the memory of the film. The procedure is simple and fast, so there is high application efficiency, and application speed is largely limited only by filler speeds.
Shrink Sleeve labels are changing the way consumer marketers introduce and push new products. Shrink Labels wrap around a products such as a bottle and or container allowing the marketer 360 degrees of space to entice a potential consumer to try their product. Shrink Sleeve material allows for high impact graphics to stand out on the grocery shelf. The use of noticeable inks and patterns on the label grab attention. Many shoppers will make unintended purchases by reading these labels.
Thus shrink sleeve labeling is an inexpensive and effective way to introduce a new product without spending heavily on media advertising buys. Traditionally a new product rollout would be very expensive costing several hundred thousand dollars just to get minimal consumer awareness. Some campaigns would be in the millions. This is a very expensive gamble if the product did not take off as expected.
Today shrink sleeve product marketing is becoming a staple for marketers to affordably check their brand appeal and market potential. This new method is good for consumers and marketers alike. Consumers will get more choices and marketers can introduce new offerings without a major financial risk other than production and shipping cost. However consumers may make more unplanned purchases but even this may be a good thing.
These labels even allow for changes that may stimulate sales of existing store products. Some products even though they are of high quality may through time start to seem outdated. A new label can add spice and appeal. The use of the sleeves can stimulate sales and grab an increase share of the product demand.
This award winning company has helped many products standout from their competition by their labeling appeal and design. SleeveCo knows how to make products standout and be more appealing in the retail marketplace. This is why they win several awards from their peers and industry associations.
GAA, IAPHC, and PLGA choose companies annually to award for their creativity and market appeal of their product labels. SleeveCo is proud to say that each year they are consistently among the top award winners. This quality and consistency makes SleeveCo the natural choice for companies that want the right branding and message for their consumer goods. The stretch and shrink sleeves they produce makes huge statements and entice buyers. The quality and market savvy of their sleeves help their clients sell more products and increase their market share. SleeveCo is proud of their awards, but the real awards are in helping their clients effectively compete in the consumer goods market.
This was written and prepared by Click Ready Marketing a leading Georgia SEO Company.
# # #