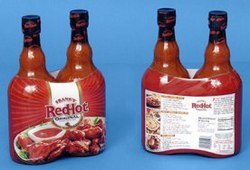 Labels play a vital role in consumer choice and influence buying behavior says
Dawsonville, GA (Vocus) March 18, 2010
SleeveCo is proud of receiving three awards from IAPHC for the artistic quality and market appeal of their products. They were awarded two Silver awards plus received the Gold award for Frank's RedHot Sauce Combo Pack. SleeveCo is a family owned manufacturer of shrink and stretch sleeve labels based just outside Atlanta in Dawsonville, GA. SleeveCo has been in business for over two decades and is proud to be working with some of the world's largest and most innovative consumer goods marketers.
360 Degrees of Marketing
Shrink and stretch labels have grown in popularity. SleeveCo has created new inks and effects to enhance their product appeal. Their shrink sleeves offer 360-degrees of real estate and provide brand owners with a high imagery material that is offered in a variety of shapes and molds. "Labels play a vital role in consumer choice and influence buying behavior says," Jyl Gryder (Marketing Director of SleeveCo). In addition to emotional appeal, their innovations have made shrink labels versatile attention grabbers. A product with a 360 degree wrap has the opportunity to break through consumer patterns and persuade a consumer often toward an unplanned purchase.
Stretch Sleeves
Stretch-sleeves are one piece, 360-degree, closed loop labels made from low density polyethylene. They are applied with special stretch sleeve equipment, which opens and stretches the sleeve onto the container, which then adheres (the label does not require adhesive which is the reason some companies choose this type label over pressure sensitive…the label uses a "snug" fit to keep in place-however you can word that) to the container utilizing the "memory" of the film. The procedure is simple and fast, so there is high application efficiency, and application speed is largely limited only by filler speeds.
Shrink Sleeves
Shrink-sleeves have become a favorite method of package decoration for their ability to conform to the package shape, size, and allowing for full 360° coverage as well. Shrink-sleeves provide tamper-proof evidence. Thus giving consumers piece-of-mind concerning product safety and integrity. Club-pack configurations are made easy with shrink-sleeves by shrinking multiples of the same product or co-promoting affiliated brands.
Our Focus
SleeveCo's focus on being the premiere supplier of sleeve labels is evident by their process and control. SleeveCo is committed to having the best printing presses, latest technology, and a great sales and service department. The company handles a variety of projects from simple to complex and daring. Martin Wilson the President of SleeveCo says, "We're the ones to call when the stakes are high and you want it done right."
Marketing Spotlight
SleeveCo's State-of-the-art flexographic and rotogravure presses – including the industry's only 11-color rotogravure press is one of their prominent competitive advantages. Proprietary color-matching system – accurate to within 1/1000 lb. of ink for super-accurate color combined with a state-of-the-art prepress department all aids in their quality control and brilliance appearance of their graphics. Specialty ink capabilities – metallic's, pearlescent, thermatic, matte varnishes (for the "etched glass" look) add yet another element that sets them apart from their competitors.
More Awards
This award winning company has helped many products standout from their competition by their labeling appeal and design. SleeveCo knows how to make a product more marketable and how important the label is in enticing a consumer to choose one brand over another. SleeveCo has also recently been honored by receiving an additional award from PLGA (Packaging and Label Gravure Association Global) for Excellence in Printing in the category of reverse printing. These awards are the signature of approval by their peers for SleeveCo's quality of workmanship.
Competitive Advantages
IAPHC and PLGA choose companies annually to award for their creativity and market appeal of their product labels. SleeveCo is proud to say that each year they are consistently among the top award winners. This quality and consistency makes SleeveCo the natural choice for companies that want the right branding and message for their consumer goods. The stretch and shrink sleeves they produce makes huge statements and entice buyers. The quality and market savvy of their sleeves help their client's to sell more products and increase their market share. SleeveCo is proud of their awards, but the real awards are in helping their clients effectively compete in the consumer goods market.
This article was written and released by Click Ready Marketing of Georgia.
###