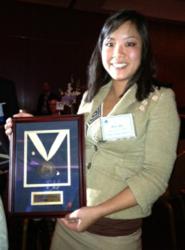 ...working for a rival company prior to joining CSA, I know that what truly sets CSA apart from other companies isn't just their amazing benefits package, or even their unwavering high reputation, but rather, CSA's close-knit family culture
SAN DIEGO, CA (PRWEB) November 20, 2012
Client Solution Architects LLC (CSA) is proud to announce that they have been awarded the Workplace Excellence Medallion Award by the San Diego Society for Human Resource Management (SD SHRM) in the small company category for outstanding workplaces.
CSA was awarded the honor at the 13th Annual Workplace Excellence Award's Dinner, "The Oscars of HR", at the Hilton La Jolla in San Diego. This was CSA's fourth consecutive year receiving this prestigious award. With 10,000 small businesses in San Diego, CSA is honored to be among the top ten small businesses in the area exemplifying human resource practices.
"It is quite an honor to be recognized by SD SHRM with the Workplace Excellence Award for the fourth consecutive year," said Brian Keller, CSA's Director of Operations, San Diego. "This is my second year representing CSA at the Workplace Excellence Award's Dinner and to be in the same company as our fellow awardees is truly a testament to CSA's positive corporate culture and dedication to our employees."
The event showcased human resources as a strategic partner and emphasized the impact of effective HR leadership on successful business performance and employee satisfaction. This year, 85 employee nominations from small companies (less than 149 employees) to large organizations (more than 1300 employees) were evaluated by a panel of diverse judges to select the handful of exemplary 2012 Workplace Excellence companies of San Diego. Five year CSA Contracts Management veteran, Amy Gee, nominated CSA for this award, highlighting CSA's exceptional benefits, employee morale and team building activities.
"I have worked for CSA for the past five years and can confidently say the benefits alone are reason enough for CSA to be one of the Best Places to Work in San Diego," said Amy Gee. "However, working for a rival company prior to joining CSA, I know that what truly sets CSA apart from other companies isn't just their amazing benefits package, or even their unwavering high reputation, but rather, CSA's close-knit family culture."
About CSA
CSA is a professional services firm providing strategic guidance and operational performance solutions to government and commercial clients. CSA helps clients achieve their goals by enhancing organizational performance and maximizing return on investments. The firm helps clients plan and execute processes associated with Project and Portfolio Management, Acquisition and Program Management, Contracts Management, Business and Financial Management, Logistics and Supply Chain Optimization and Business Improvement and Analytic Services. CSA delivers services by combining deep process expertise with strong program management disciplines, analytics and a focus on performance results.