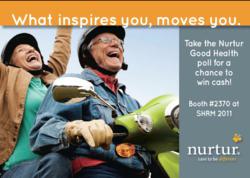 Good Health campaigns apply the principals of consumer marketing to connect with people on an emotional level and inspire engagement.
Las Vegas, NV (PRWEB) June 27, 2011
As employers across all industries embrace worksite wellness programs as a proven strategy to reduce healthcare costs, an essential component to program success is effective communications. It can be the difference in achieving desired program goals for engagement, outcomes and return on investment (ROI). To help employers effectively promote wellness programs, Nurtur, the behavior change company serving employers, plan sponsors, health plans and government programs, announces Good Health wellness communications.
Good Health is the theme of Nurtur's presence at the Society of Human Resource Management (SHRM) 2011 Annual Conference in Las Vegas. Attendees are invited to visit the Nurtur booth (#2370) to learn about Good Health and take part in an online market research poll. In five short questions, the purpose is to understand the emotional triggers that would move purchasers of wellness programs and consumers of wellness services to engage.
Good Health communications campaigns support employers to achieve engagement, participation and ROI. The concept applies the principals of consumer marketing to create positive emotional messages and distinctive wellness brands that motivate engagement. Good Health begins with a basic understanding that people are human. Words and images connect people topositive emotional destinations that are basic to human nature. Customized, flexible and multimodal campaigns allow employers to tailor messages to reflect their unique values and workplace cultures. Nurtur wellness and marketing professionals guide employers in developing Good Health campaigns with a four-step best-practice process to define the population culture and characteristics, determine the communications strategy, develop strong and clear messaging, and maintain and build program awareness over time.
"Employers need to make their communications count. Without strong internal communications, a worksite wellness program will never achieve the participation, impact and return on investment that it could otherwise realize," says Pat Henricksen, senior director, product development and Marketing at Nurtur. "Good Health campaigns connect with people on an emotional level to inspire engagement. The concept is fun and can be easily adapted at each stage of program implementation."
Results of the Good Health poll will be announced in Journey, the monthly e-newsletter and blog from Nurtur. For more information or take part in the Nurtur Good Health poll, visit http://www.nurturgoodhealth.com.
About Nurtur: Nurtur is the behavior change company dedicated to helping individuals improve their health and wellbeing. The company offers wellness programs and health coaching to educate, enable and motivate people at all life stages to address the life issues that get in the way of health as well as the health issues that complicate living. Nurtur life and health management programs include wellness, disease management (including Back Pain, Depression, Diabetes, Heart Disease and Respiratory Disease), episodic/catastrophic care management, work-life resource and referral, employee assistance and professional training. The company provides services to multi-market segments including employers, plan sponsors, Third-Party Administrators, commercial health plans and government agencies.
###