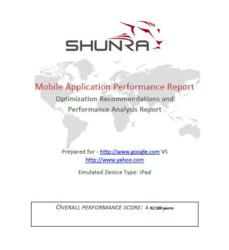 "Most websites have been designed for laptop or desktop PCs accessing them over broadband networks. Mobile users have very different experiences." -- Research director, Michael King, of Gartner
Philadelphia, PA (PRWEB) May 05, 2011
Shunra, the industry-recognized authority in Application Performance Engineering (APE) solutions for WAN, Web, Mobile and Cloud-based networks, today announced the first in a series of free offerings designed to help CIOs and corporate IT teams unravel the complexities that impede and contribute to poor end user experience, including guidance for remediating application performance issues. The Shunra Mobile Application Performance Test, a hosted service on the Shunra website, (http://www.shunra.com/mobile-performance-test), tests, scores and compares the performance of any two web pages over 2.5G, 3G and 4G networks. The Mobile Application Performance Test delivers a detailed analysis in just minutes, including customized optimization recommendations to improve performance – a tremendous value to businesses rushing to make their websites more functional for smartphones, tablets and other mobile devices.
See sample report comparing Google and Yahoo!
Increasingly users are accessing web-based content from a variety of client devices and a growing number of various mobile networks. Research director, Michael King, from Gartner states, "Most websites have been designed for laptop or desktop PCs accessing them over broadband networks. Mobile users have very different experiences."
Morgan Stanley has projected mobile Internet access to surpass PC-based access by 2014, yet less than 20 percent of the Fortune 1000 has optimized their websites for mobile users. "The explosive growth of the mobile device market has created intense competitive pressure for businesses to deliver products and services across mobile networks, but they are finding the mobile environment markedly different from the typical broadband environment," said Gene Litt, VP of Product Strategy for Shunra. "In the rush to support mobile users, they often lack the time and tools required to determine how well their web property will perform across different mobile networks. The Shunra Mobile Application Performance Test is a fast, easy and no-cost way to understand what type of performance their mobile end users are experiencing, and how to best service those users over different kinds of networks."
Customers access the Mobile Application Performance Test via the Shunra website, using an online form to submit the URLs of the two web pages they wish to test and compare. Shunra's service then automatically tests those sites across emulated mobile networks.
Within minutes of test completion, Shunra generates a PDF report that delivers precise performance data, including:

Web page load times
Component download analysis
Waterfall timeline view
Customized performance optimization recommendations
Shunra's performance optimization recommendations are based on industry standards, including the YSlow ruleset, and customized rulesets derived from Shunra's experience. The performance optimization recommendations included in the Mobile Application Performance Test have been tested by Shunra and shown to improve the load time performance of mobile-optimized sites by nearly 20 percent and standard websites (when viewed on an iPhone) by up to 44 percent.
NIST reports that of the total cost of application deployment, companies spend 4 of 5 dollars on remediating performance problems once the application is deployed. "Shunra sees this dilemma becoming even more challenging unless companies adopt a proactive application performance testing and validation policy across the enterprise," said Bill Varga, Chief Operating Officer at Shunra. "Shunra's free offering enables organizations to gain immediate insight into how their standard and mobile web pages are experienced by mobile end users, a powerful, introductory look into application performance engineering."
About Shunra
Shunra is the industry-recognized authority in Application Performance Engineering (APE) and a pioneer in WAN emulation. Shunra's customers include 75 of the Fortune 100 with some of the most complex and sophisticated networks in the world. Shunra's APE solutions discover, predict, emulate and analyze the performance of applications over WAN, Web, Mobile and Cloud networks. Shunra delivers dramatic cost savings through customized performance insight, enabling pre-deployment and post-production remediation and optimization. Customers include Apple, AT&T, Bank of America, Best Buy, Boeing, Cisco Systems, Citibank, eBay, FedEx, GE, IBM, ING Direct, Intel, Marriott, MasterCard, McDonalds, Merrill Lynch, Motorola, Oracle, Pepsi, Pfizer, Siemens, Target, Thomson Reuters, TJX, Verizon, Walt Disney and the U.S. Federal Reserve Bank. Shunra is headquartered in Philadelphia and privately held. For more information, call 1.877.474.8672 or visit http://www.shunra.com.
About YSlow
Yahoo! YSlow analyzes web pages and suggests ways to improve their performance based on a set of rules for high performance web pages. YSlow is a Firefox add-on integrated with the Firebug web development tool. YSlow grades web pages based on one of three predefined rulesets or a user-defined ruleset. Most files compromising YSlow are licensed for use under the Mozilla Public License Version 1.1; an online version of the license agreement is available at developer.yahoo.com/YSlow/license.html. YSlow includes jslint by Douglas Crockford, which is licensed under a BSD-style license. YSlow also includes files from the Yahoo! User Interface library, which are licensed under the BSD license.
###