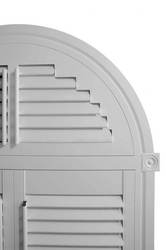 (PRWEB) October 21, 2009
Thomas Sanderson, the UK's leading supplier of bespoke blinds and shutters is pleased to announce the launch of shaped shutters to their extensive collection.
This new addition to the Thomas Sanderson bespoke window shutters range has been designed with beauty and function in mind. Unlike conventional shaped shutters where the louvres are fanned, Thomas Sanderson has developed a slat system where the louvers are all horizontal. By using a step technique and designing the shutters this way Thomas Sanderson have been able to maintain the beauty and functionality of their traditional bespoke shutters.
The shaped shutter is kept in place by magnets and the slats are operated by a standard tilt wand so you can control the amount of light that enters your room. With over 50 different painted finishes and colour match options available, you can compliment your existing interior without the need to redecorate.
Ian Bayne, PR Manager, commented on the launch, "With the launch of shaped shutters added to our already extensive range, we are now able to offer customers a solution for their entire window shading needs. This launch further underlines our position as the UK's leading supplier of Conservatory Blinds, Window Shutters and Window Blinds. "
The new range of shaped Shutters by Thomas Sanderson is available now.
About Thomas Sanderson:
Since 1991, Thomas Sanderson has grown from a family run business to an international company offering products and services throughout the UK and Ireland. The company is Europe's largest manufacturer and supplier of Conservatory Blinds in addition to supplying Window Blinds and Window Shutters.
Thomas Sanderson has remained true to its roots, offering a local service and continuing to make its relationship with each and every customer its main priority. The company takes pride in ensuring the standards of service on offer match the high standards of its products.
All Thomas Sanderson's products are made-to-measure and undergo robust testing to guarantee durability and exceptional performance for many years to come.
# # #