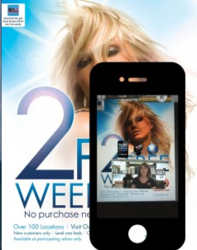 Although users have the opportunity to bypass the augmentation, data shows that consumers will appreciate the innovation as Cisco reports that two-thirds of the world's mobile data traffic will be video by 2017...
Austin, TX (PRWEB) April 11, 2013
Here, Shweiki explains the newest phenomenon in the publishing world, augmented reality. Although it's still a fairly new concept for most print publishers, some large companies are jumping at the chance now to impress their current and potential customers by promoting the cutting-edge technology--the future of print--known as augmented reality into their ad campaigns.
Augmented Reality Summed Up
In short, augmented reality is a concept using technology similar to that of Google Glasses, where a user simply looks through a third-party device (which, in this case, is a launched smartphone or tablet app) and watches in awe as the still image in question comes to life, transforming into an animated video on the screen of their device. Obviously, this technology changes the print game completely, giving it more interactivity and an animated quality its never had before. It also offers advertisers more bang for their buck, as they're paying for a simple print ad but get the benefits of the video footage that's packed in as well. And although it's true that users do have the opportunity to bypass the augmentation (by not downloading or launching the app) data shows that odds are in AR's favor and that consumers will appreciate the innovation, as according to Cisco, a whole 2/3 of the world's mobile data traffic will be video by 2017.
Companies Adding Life to Their Print Campaigns with Augmented Reality
Welcome to the Future reported in their blog that they noticed at the AdFestival in Cannes that a large amount of big-named, mainstream brands that are spicing up their print ads with augmented reality, including the following:
Kia
Volvo
Lacta
Asos
Voltswagon
JC Penny
Starbucks
Even brands like Kraft and TaylorMade Golf are integrating augmented reality into their ads. When TaylorMade, one of the elite brands in the golf community, wanted to showcase their new R1 driver (that wasn't on shelves yet), they decided to run an augmented print campaign highlighting the new features of the club, using both stills and videos. The AR app users got the first-hand digital view of the club and the ability to spin the club-head, rotate the club itself (enabling them to view it from multiple angles) and even digitally customize the club by adjusting the loft and face angle.
The Meaning of AR Technology
As technology continues to evolve in our society, becoming not just more and more important, but absolutely necessary, it's crucial that businesses embrace it in its new forms. Smart business owners adapt and adopt quickly, embracing the patterns that studies and data represent (for example, smartphone usage growing 81% in 2012). Augmented reality isn't just a trend, but the future. It's here to stay, and smart business owners will understand its importance and benefits and start utilizing it right now--or face getting left in the dust of more innovative, tech-savvy competitors.
Shweiki Media's mission has always been to help publishers improve by providing the most profitable, hassle-free printing experience possible. This includes guaranteeing the highest quality product, exceptional customer service and on-time delivery.
As a printer and publisher, Shweiki Media also believes that this hassle-free experience includes making their clients better. Utilizing relationships with industry experts, Shweiki Media strives to educate clients and help them thrive in the exciting world of publishing--while having lots of fun along the way!
For more great info from and about Shweiki Media and their postcard, catalog, magazine printing and more, please check out shweiki.com, follow us @ShweikiMedia and "like" us at Facebook.com/shweikimedia.