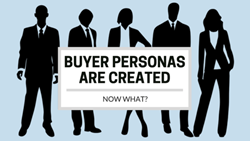 Shweiki Media presents a webinar on how to put buyer personas to use to enhance one's sales and marketing practice and sell more successfully.
Austin, TX (PRWEB) November 08, 2016
Shweiki Media Printing Company is excited to announce a new webinar on how to utilize buyer personas as a sales and marketing tool.
Shweiki recently teamed up with Adele Revella--author and CEO of the Buyer Persona Institute--to create a webinar on the importance of buyer personas.
If building the buyer persona represents the most impactful influence on one's marketing and sales strategy, knowing what to do next is a close second. A buyer persona helps one understand the buyer they hope to market and sell to, which helps one craft effective campaigns. The more effective the campaign, the more likely it is to influence the buyer's decisions. The buyer persona is more than the person; it's the buyer's journey plus that person. The question now is: How does one use that information?
Now Shweiki is excited to publish the next in this series, which focuses on putting the buyer persona to use.
In this webinar, Revella discusses the following:
-Developing new ways to approach a buyer
-Gathering experts
-Crafting a message
-Delivering a message
-Customer needs that fall outside of one's wheelhouse
-Focusing on the message
The webinar is available on Shweiki's YouTube channel and, along with an accompanying blog, on Shweiki.com. Click here to watch the webinar now!
Shweiki Media's mission has always been to help publishers improve by providing the most profitable, hassle-free printing experience possible. This includes guaranteeing the highest quality product, exceptional customer service, world-class communication, an on-time guarantee, and no surprises– whether printing magazines, postcards, flyers or anything else.
As a printer and publisher, Shweiki Media also believes that this hassle-free experience includes making their clients better. Utilizing relationships with industry experts, Shweiki Media strives to educate clients and help them thrive in the exciting world of publishing–while having lots of fun along the way!
For more great info from and about Shweiki Media, please check out our blog at shweiki.com/blog (and sign up for our FREE weekly expert webinars!), and subscribe to our Youtube Channel at youtube.com/shweikimedia. You can also follow us @ShweikiMedia and "like" us at Facebook.com/shweikimedia