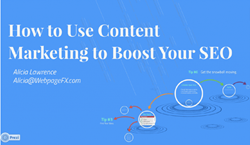 It's time to move away from traditional link building and SEO techniques, which can now bring more harm to one's ranking than help, and into a new world of content marketing and online public relations.
Austin, TX (PRWEB) February 12, 2014
Google's recent updates mean that one has to adapt and update their strategies. It's time to move away from traditional link building and SEO techniques, which can now do more harm than good to one's ranking, and into a new world of content marketing and online public relations. Here Shweiki teams up with Alicia Lawrence of WebpageFX to present a must-watch webinar on using content marketing to boost SEO.
Pros of Linkable Assets:
-They are a gift that keeps on giving. While link building techniques like guest posts are a one and done deal, with the published post having one link, linkable assets have a longer life and will continue to draw links to one's site for years to come.
-This is the way Google wants it done, and when it comes to doing SEO right, it's important to focus on quality content.
-This strategy increases visibility and traffic. Linkable assets are typically published on the blog on one's website. Creating additional pages on the blog gives one's site more indexed pages and links, which inevitably means a larger slice of the online pie and more of a chance to be found by a potential customer. Not only does one get an increase of traffic to their site, but also more shares and social signals which do impact the search ranking and in general the reach of the brand.
Cons of Linkable Assets:

Linkable assets can be time consuming and expensive to create, as unless one has an in-house designer, they will have to hire an agency or freelance designer.
-They don't guarantee results. Plenty of great linkable assets draw in just one or two links, which for the money spent usually isn't worth it. Perhaps in the future that particular linkable asset will take off, but it's impossible to tell.
Types of Linkable Assets:
Videos and Motion Graphics: This is a less popular linkable asset because people often don't include the credit at the end of the video and many people can just watch it from YouTube instead of going to the company's site.
-Web Graphics: This is an evolved infographic that allows the user to interact with it.
-Skyscraper Content: The newest addition to the linkable asset family, skyscraper content refers to a long-form blog post of around 2,000 words that's broken up with pictures, graphics and videos. The best skyscraper content is optimized with schema markup.
Now linkable assets aren't confined to just these four types, and whatever works for one's company—whether it's eBooks or just resource pages— as a valuable asset on the site that people link to is what one should be creating.
Tips to Follow:
Tip #1: One should pick a topic that springs from their keywords and is being searched by potential customers. By now, one should already have a good amount of keywords their site is being optimized for, and this step is as simple as coming up with a few ideas one thinks their customers are curious about, relating to the topics of the keywords. It's also a good idea to go to Ubersuggest, Google Trends or even Yahoo! Answers to see what popular phrases or questions surrounding that keyword are.
Tip #2: Measure the potential before creating the linkable asset. After deciding on a few topic ideas, one should run them through a test by running through the following questions:
-Which topic has the highest search demand? Has anyone done this before, and if so, what can be done to make it unique? Will this drive high-intent qualified traffic? (As in: Will it attract and drive traffic that is likely to convert on the site?) How big is the audience that would be interested in linking to this asset? Is this topic doable? Does the research exist or can it be done?
-And the ultimate test: Pitch it to a high-authority news site journalist.
Tip #3: Find the right story. The best linkable assets have a story or theme behind them, and even infographics usually have a problem, represented through statistics, followed by a resolution of sorts. Web graphics and smaller infographics usually just follow a theme like, say, the world's tallest buildings. Another question one should consider is the best way to display the data. If it has a strong storyline, perhaps an ebook or skyscraper content would be best. If it has complex statistics, one should probably use a web graphic. If the goal is to get leads as well as links, one can consider writing a "how to" or "guide" which can be downloaded for free by the user if they give their name and email.
Tip #4: Give people a reason to share it. Articles that include quotes or advice from top professionals in that field do very well in getting links and being shared on social media, because when the experts are told their information is included, they are more likely to share it and perhaps link to the post from their own site (which probably has a considerable following). This is just one of many ways to encourage people to share the linkable assets.
Tip #5: Optimize the linkable asset. This includes the following tactics:
-Incorporating one's keyword in the meta description and title (The WordPress plugin, SEO Yoast, is recommended.)
-If possible, including a schema markup and a rich snippet, which is a picture or graphic that shows next to the search result for that page. People are more likely to click on a listing if there is a picture by it.
-Remembering to include an embed box so others can easily embed the graphic, along with a credit link back to one's website. Most times this won't be an issue because people will just link back to the resource from anchor text.
Tip #6: Get the "snowball" moving! The ultimate goal of a linkable asset is to get enough momentum to get links on its own, but before it can do that, one has to work to get the snowball started. One should share the linkable asset multiple times across social channels, send it to relevant journalists and bloggers, run a StumbleUpon campaign and submit it to Reddit.
Measuring the Success of Linkable Assets
First, one can look at their backlinks. Trackbacks can be found on Google Analytics or Ahrefs.com. It's as simple as plugging in the URL of the linkable asset.
It's also possible to find out who shared the linkable asset through a basic Google search, which is good to do to find those who might have included the graphic on their page but never linked back to the source. For pictures and graphics, it's as simple as doing a reverse image search on Google.
Click here to watch the webinar now!
Shweiki Media's mission has always been to help publishers improve by providing the most profitable, hassle-free printing experience possible. This includes guaranteeing the highest quality product, exceptional customer service and on-time delivery--whether printing magazines, flyers, postcards or anything else.
As a printer and publisher, Shweiki Media also believes that this hassle-free experience includes making their clients better. Utilizing relationships with industry experts, Shweiki Media strives to educate clients and help them thrive in the exciting world of publishing--while having lots of fun along the way!
For more great info from and about Shweiki Media, please check out our blog at shweiki.com/blog (and sign up for our FREE weekly expert webinars!), and subscribe to our Youtube Channel at youtube.com/shweikimedia.  You can also follow us @ShweikiMedia and "like" us at Facebook.com/shweikimedia.