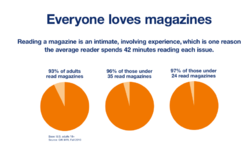 Magazines are the medium of engagement and continue to score significantly higher than television and the Internet in key engagement attributes...
Austin, TX (PRWEB) April 24, 2013
There has been a lot of discussion in the media world about whether or not print is indeed dead. While most would agree that newspapers probably won't persist to again captivate the nation with the level of grace that they once so historically obtained, magazines seem to be left out of the discussion completely, destined for a seat at the kids table—perhaps deterred by the transient, hyper-niche reputation they've worked so hard to attain.
But it's quite possible that in the wake of a digital revolution, magazines will find themselves more popular than ever before, due to the embracement of the very same attributes newspapers previously pushed so hard against: adoption of new technologies/niche audiences/opinionated personas. It turns out that magazines aren't just thought to be a giant in the media ranks; there are statistics to prove it, which Ryan Dohrn, CEO of Brain Swell Media, lays out in this weekly webinar for Shweiki Media…
Everyone Loves Magazines
The simple fact of the matter is that everyone loves to read quality magazines. They are specifically designed for unique tastes, cheap to purchase, and contain information that one is unlikely to find elsewhere. Also important to consider is that it takes the average reader 42 minutes to read an issue cover to cover. There is no doubt that when a reader uses 42 of their minutes to engage with their favorite magazine, they are actively participating in an intimate monthly ritual similar to that of checking one's email in the morning or catching the nightly news before bed.
Besides the intimacy of this ritual, another aspect that separates magazine readership from other forms of media consumption is the fact that when one is reading a magazine, it is extremely difficult to multi-task with other forms of media. Because users pick up magazines to read articles or learn about specific topics that interest them, they tend to shut off alternative noise to avoid distraction while consuming content.
(Statistics sourced from Magazine Media Factbook.)
Magazines are the medium of engagement and continue to score significantly higher than television and the Internet in key engagement attributes:
Ad receptivity (100-500 rating scale)...
-Magazines: 258
-Internet: 209
-Television: 208
Social Interaction (100-500 rating scale)...
-Magazines: 308
-Internet: 274
-Television: 291
Consumers welcome advertising in magazines...
-A measure of ad effectiveness for magazines says it has grown 11% over the last five years
-53% of those recalling ads took action as a result of seeing that specific ad
-58% of respondents agree that ads are particularly enjoyable when related to content
-60% agree that ads allow for more detailed information
Magazines rank #1 in driving purchase intent and have been proven to increase purchase intent five times as much as television or the Internet do:
Number of people impacted per $1 spent on advertising...
-Magazines: 4.8
-Television: .8
-Internet: .3
All in all, it appears that--due to both common practice and proven statistics--magazines are not only an enjoyable form of entertainment media, but a great place to promote engagement, encourage purchasing habits and impact the most people per dollar spent on advertising.
Click here to watch the webinar now
Shweiki Media's mission has always been to help publishers improve by providing the most profitable, hassle-free printing experience possible. This includes guaranteeing the highest quality product, exceptional customer service and on-time delivery.
As a printer and publisher, Shweiki Media also believes that this hassle-free experience includes making their clients better. Utilizing relationships with industry experts, Shweiki Media strives to educate clients and help them thrive in the exciting world of publishing (and printing and publishing everything from magazines to flyers to to postcards and more)--while having lots of fun along the way!
For more great info from and about Shweiki Media, please check out shweiki.com, follow us @ShweikiMedia and "like" us at Facebook.com/shweikimedia.