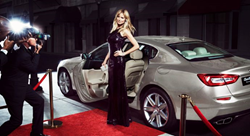 We are excited about the 'Beyond the Swimsuit' spread with Heidi Klum.
Atlanta, GA (PRWEB) April 24, 2014
The highly-anticipated 50th Anniversary Sports Illustrated Swimsuit issue features the world's most desirable models on tropical beaches and vacation destinations according to New York Daily News. Supermodel Heidi Klum teamed up with Maserati for a 7-page spread in the coveted 2014 issue. The "Beyond the Swimsuit" pictorial introduces Maserati's 2014 line-up of vehicles through a day in Heidi Klum's life.
The "Beyond the Swimsuit" pictorial includes a photo spread of Klum behind the wheel of the Gran Turismo convertible, the Quattroporte Ermenegildo Zenga Limited Edition concept and the all-new 2014 Maserati Ghibli. The Maserati Ghibli is the brand's first design of a mid-sized four-door sports sedan. Photographer Francesco Carrozzini shot the stunning prints of Klum driving the Italian luxury cars in striking and exotic locales.
According to biography.com, Heidi Klum began her modeling career at the age of 18. She initially worked for Victoria's Secret and instantly rose to supermodel status after appearing in the 1998 Sports Illustrated swimsuit issue. Klum's modeling success led to her debut as a television host and executive producer for Project Runway.
The stunning pictorial features Klum appearing at red carpet events, emerging from a race track in a Maserati vehicle, and posing behind the wheel of the 2014 Maserati Ghibli, which boasts a V-6 engine, more than 400 horsepower, all-wheel drive and advanced suspension. The 2014 Sports Illustrated "Beyond the Swimsuit" pictorial showcases the best of Maserati's 2014 vehicles.
The Sports Illustrated anniversary issue gained immediate attention and continued to gain momentum after publication. "We are excited about the 'Beyond the Swimsuit' spread with Heidi Klum. The pictorial is simply captivating and a stunning representation of the versatility of our vehicles," said Jim Ellis Maserati General Manager Stacey Hodges.
To learn more about the vehicles featured in the "Beyond the Swimsuit" pictorial, visit http://www.jimellismaserati.com.
About Jim Ellis Maserati Atlanta
Jim Ellis Maserati is a new addition to a notable collection of new and pre-owned automobiles offered by the Jim Ellis Automotive Group. Maserati is a brand renowned for their unique combination of aerodynamic design and high performance. Located just inside the perimeter at 5855 Peachtree Boulevard, Jim Ellis Maserati offers an expansive inventory of new and pre-owned vehicles. Visit them online at jimellismaserati.com or contact by phone at 888.219.1803.