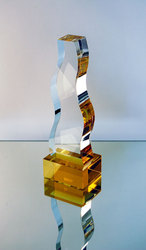 Deadline extended to March 2, 2011 for the 17th annual Summit Creative Award competition.
Portland, OR (PRWEB) February 15, 2011
The SIA board elected last week to extend its Annual 2011 Summit Creative Award (SCA) deadline to March 2, 2011 due to the number of extension requests from participants. Companies and individuals from more than 50 countries and across five continents have participated in this prestigious competition - the first and best of its kind.
The international SCA competition limits the size of eligible companies to those with under $30 million in annual billings, offering participants the unique opportunity to showcase their talents alongside similarly positioned agencies and to have their work judged by experts in the advertising field. Its exclusive award-selection process means winners have earned the right to broadcast their achievements far and wide.
This year's 17th annual SCA competition recognizes and celebrates outstanding creative achievement in categories of all advertising media sectors including print, broadcast, online advertising; emerging media; web sites; multimedia programs; collateral materials; direct mail and more. The SCA organization, whose aim is to laud the creative work of less-than-huge agencies, makes competition affordable and accessible. It offers multiple entry discounts, streamlined internet submissions, and many ways to tout winners' achievements.
Each year, new and returning companies and individuals join the rank of applicants and winners of the SCA. Application packages are easy to prepare at the website, which guides competitors step-by-step through the submission process. With a few short weeks to prepare materials, the SIA support staff is available to answer questions and help with category project matching.
The SIA organization is dedicated to furthering excellence in the advertising and marketing communications industry. It administers three distinguished award competitions throughout the year with the goal of raising the awareness of companies and individuals who have the creative and marketing talent to go beyond the ordinary. More information can be found at http://www.summitawards.com, by email sia(at)summitawards(dot)com or by calling 503-297-9979.
###