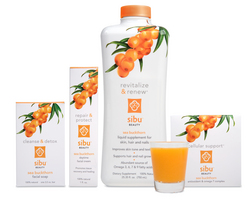 We believe that beauty comes from the inside out and employ the same beliefs in our business practices
Salt Lake City, UT (PRWEB) July 30, 2009
Of course, true beauty comes from within, but we can all benefit from a little boost from nature!
That's why Sibu Beauty (http://www.sibubeauty.com) developed a revolutionary line of nutrient-rich, sea buckthorn berry-based topical products and nutritional supplements that revitalize, renew and replenish the skin to promote beauty from the inside out and outside in.
Sea Buckthorn? What's that?
The health benefits of sea buckthorn berries have been well documented, backed by scores of scientific studies demonstrating its ability to improve hair, nail and skin tone and texture, digestive wellness and healthy aging.
The sea buckthorn berry is an unsurpassed source of Omega-3, 6 and 9 and is also a rich source of the elusive essential fatty acid Omega-7, a naturally occurring component of healthy skin, hair and nails that keep free radicals at bay and is an essential fatty acid vital to the production of collagen.
Sibu Beauty's four-part beauty system includes a beauty drink, dietary supplement and facial products that are based on the sea buckthorn berry, a distinctive, powerful whole food source.
Products in the spa-grade Sibu Beauty system include:

Each of the products in the Sibu Beauty system are 100 percent natural, contain no preservatives, dairy, wheat, gluten, sodium or yeast and are also paraben-free and cruelty-free. Sibu Beauty products are manufactured using only wild harvested sea buckthorn berries that are sourced through a fair trade agreement with local harvesters in Tibet to promote a healthy and safe work environment.
The entire line is packaged in compliance with standards set forth by the Forest Stewardship Council (FSC), a non-profit organization that is devoted to encouraging the responsible management of the world's forests. Trusted environmental organizations including Greenpeace, National Wildlife Federation, The Nature Conservancy, Sierra Club, and the World Wildlife Fund all support and encourage FSC certification.
"We believe that beauty comes from the inside out and employ the same beliefs in our business practices," says Bruce McMullin, founder of Sibu Beauty. "As we keep our customers looking and feeling younger and more beautiful with our nutrient-rich beauty systems, we also strive to respect the earth's fragile resources and the people responsible for making our products. Our gift back to nature is exercising great care to have little impact on our planet, while practicing in fair trade policies with the villagers who harvest our products."
Sibu Beauty products can be purchased online at http://store.sibubeauty.com/SearchResults.asp?Cat=20 or can be found in the aisles of many leading retailers including Whole Foods Markets, Akins Natural Food, Chamberlin's Market, Sprouts, New Seasons and soon, Sunflower Markets.
For more news updates, information and special offers, follow Sibu Beauty on Twitter @sibu_beauty and become a Facebook fan at http://www.facebook.com/sibubeauty.
About Sibu Beauty
Sibu Beauty was introduced in early 2009 to provide customers worldwide with a comprehensive approach to beauty from the inside out and outside in. The Sibu Beauty product line is based on a powerful and distinctive whole food source, the sea buckthorn berry. This super food is backed by hundreds of scientific studies demonstrating its success at addressing a variety of consumer needs including improved skin tone and texture, healthy aging and digestive health and noticeable improvements in cardiovascular fitness, energy and weight loss.
About Sibu, LLC
The products of Sibu Beauty - a subsidiary of Sibu, LLC, "The Sea Buckthorn Company" - are made with only premium sea buckthorn berries exclusively grown and harvested for the company in the Himalayan Mountains of Tibet. The company's meticulous harvesting process results in a more hardy and potent berry. Sibu's proprietary manufacturing process maximizes the efficacy of sea buckthorn raws, producing one of the most nutrient dense sea buckthorn products available on the market today.
The Tibetan villagers who are responsible for harvesting Sibu Beauty's sea buckthorn berries benefit from a fair trade agreement, safe and healthy working conditions and environmentally responsible practices that ensure they will enjoy the benefits of the sea buckthorn harvest for years to come.
*These statements have not been evaluated by the Food and Drug Administration. These products are not intended to diagnose, cure or prevent disease.
###