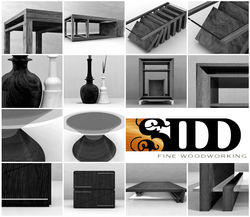 an alternative to the disposable furniture that can be purchased just about everywhere now.
Ottawa, Ontario (PRWEB) March 10, 2009
SIDD Fine Woodworking (SFW) has opened its studio and workshop in Ottawa, Ontario, Canada.
As a company that both designs and builds its products entirely in-house, SIDD is positioned to provide high end modern furnishings that are innovative, interesting, and uniquely well made.
Founder and lead designer Chris Pritchard describes SIDD products as "an alternative to the disposable furniture that can be purchased just about everywhere now."
He says, "it used to be that you only bought one or two coffee tables in your entire lifetime - and some of those pieces are still around today as antiques. In stark contrast, most of the furniture being manufactured today will need to be replaced within the next two years, and will subsequently end up in landfills. If we spend a little more upfront on investment grade pieces for our homes, they can last a lifetime. Certainly longer than the products found in the grocery store next to the hot sauces."
SIDD products are hand-made to order, and are built in-house to stand the test of time. Nestled in Tolborton forest by the Ottawa River, the company's mandate is to build sympathetically. Products are made using reclaimed wood and materials where possible, and a consistent effort is made to locally source raw materials that have been responsibly and sustainably forested.
Notably, all current SIDD products are fully customizable. Customers can specify dimensions, type of wood and other materials, tint of stain and finish gloss level, all to ensure that they get the precise, unique piece that best suits their personal taste and decor.
Especially beneficial is the fact that any piece can be requested in reclaimed, recycled and natural non-toxic materials. The company is adamantly anti-sweatshop; absolutely nothing is sourced from labour farms overseas.
Chris likens the company's principles to the well known Slow Food Manifesto. He says, "we're applying old world values to current design sensibilities. Our core values focus overwhelmingly on quality (good), sustainability (clean) and ethics (fair)."
SIDD furniture and products are currently available for order directly from the company (http://www.sidd.ca) as are custom furniture commissions. They are shipping worldwide.
The company is currently accepting Canadian and international distributor inquiries.
http://www.sidd.ca/showcase.php include the Domino Coffee Table, Cubic Side Table, Metric Coffee Table, Hourglass Dining Table, Control Dresser, Check+Mate Vase Set, and the Interrupt Coffee Table. New pieces are being added regularly.
# # #