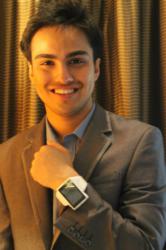 Breathe. Dream. Try. Create.
(PRWEB) April 05, 2013
Indian boy Siddhant Vats has been invited to represent India at the HORASIS Global Business Meet to be held at Belfast, Ireland from 23-24 June 2013. The 17-year-old student of Class 12 will be the youngest entrepreneur at the meet which will host some leading business leaders and policy makers from India and abroad.
Siddhant has been invited to the prestigious forum following a path-breaking innovation which saw him and three of his friends develop the World's first Android Smart Watch -- Androidly -- which includes the features of a mobile phone, computer and GPS etc. This innovation has taken the technology world by storm and has been written and talked about in detail in the US, Europe and Asia in various newspapers and magazines. 
Siddhant, a techno-enthusiast and a brilliant student is doing his final year of school in London. Siddhant is the Co-Founder of Androidly Systems and has been credited to have made the World's First Android technology watch.
Besides being a techno-innovator, Siddhant is also into social service and is the Co-founder of FALAK, the NGO which works with the under-privileged children and other issues to bridge the social gap in the society. Siddhant has been teaching children in slums and orphanages even though he himself is a student.
On the basis of these achievements and initiatives Siddhant has been invited to speak at the HORASIS Global meeting and will be representing the young generation of India by sharing his ideas amidst the Multi-National Corporate giants.
Siddhant wants to apply technology to make human life comfortable and easy.
It's surprising for a person so young as Siddhant, but he has a clear vision of the role of technology in the modern world, especially in a developing country like India. He firmly believes that technology is the gateway to human emancipation as history has already shown.
Siddhant has inherited his love and knack for science and technology from his father, Sanjay Shreevats who is an official with the India Tourism, Ministry of Tourism, Govt. of India who is presently posted at London. On the other hand, Siddhant's social outlook has been shaped largely by his philanthropist mother, Ratna Purkayastha who is an officer with Doordarshan Kendra (DDK) Patna.
HORASIS is a Switzerland based international organisation and a Global Vision Community. Its stated mission is to "enact visions for a sustainable future" through new platforms for cooperation and knowledge-sharing, particularly between developed countries and emerging markets." HORASIS is a world forum where business leaders, heads of states, policy makers, academia etc. congregate to debate business events, patterns, opportunities, investments etc.
The participation of Siddhant Vats at this prestigious platform will bring India into international focus.