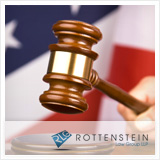 New York, NY (PRWEB) April 29, 2013
The Rottenstein Law Group, a New York-based nationwide mass torts law firm, has created a Lipitor Lawsuit Information Center dedicated to issues that apply to Lipitor users and those who are considering filing a Lipitor lawsuit.
According to academic research studies, including one published in JAMA: Internal Medicine,* there is a potential link between women who take statins (cholesterol drugs) such as Pfizer's Lipitor and a Type 2 diabetes risk.
Via the Rottenstein Law Group's Lipitor Lawsuit Hotline at (888) 725-0938, the firm's attorneys have spoken to people who believe they might be entitled to compensation for health problems allegedly caused by Lipitor. The firm has also investigated the injuries Lipitor might cause and the likelihood of compensation via a Lipitor lawsuit for those injuries.
The Rottenstein Law Group has posted all of this information, in a format that is easy to understand, at http://www.rotlaw.com/lipitor. Past and present users of Lipitor who have questions about Lipitor side effects or Lipitor lawsuits should visit the website or call the Rottenstein Law Group's Lipitor hotline at (888) 725-0938, so the firm's attorneys can review their cases. The consultation will be free and confidential.
*archinte.jamanetwork.com/article.aspx?articleid=1108676
About THE ROTTENSTEIN LAW GROUP
The Rottenstein Law Group is a New York-based firm that represents clients nationwide in mass tort actions. The firm was founded by Rochelle Rottenstein, who has more than two decades of experience as a lawyer, to represent clients hurt by defective medical devices and drugs. (Attorney advertising. Prior results do not guarantee a similar outcome.)
Contact:
The Rottenstein Law Group, LLP
Rochelle Rottenstein, Esq.
321 W. 44th Street
# 804
New York NY 10036
(212) 933-9500 (office phone)
(212) 933-9980 (facsimile)
rochelle (at) rotlaw (dot) com
rotlaw.com