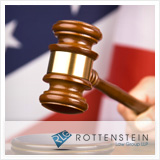 The FDA makes regulatory choices every day, but this one is troubling.
(PRWEB) May 07, 2013
Drug manufacturer Merck recently sought and earned U.S. Food and Drug Administration approval for a new drug that pairs its own cholesterol-lowering Zetia with a generic version of Lipitor, the blockbuster statin marketed by Pfizer before it lost patent protection in 2011. The Rottenstein Law Group, which represents clients in Lipitor lawsuits, is watching this development closely, noting that studies have established a link between Lipitor and Type 2 diabetes.
The new drug, Liptruzet, is found to lower cholesterol but does not lower the risk for cardiovascular disease, according to a May 3 New York Times article.* Despite Lipitor's popularity** there is at least one study that shows it has its own share of risks. According to a study in the January 2012 edition of JAMA: Internal Medicine, there is a potential link between statins and a Type 2 diabetes risk in women.***
"The FDA makes regulatory choices every day, but this one is troubling," said Rochelle Rottenstein, principal of the Rottenstein Law Group. "This is especially true when considering the side effects we hear about daily from clients, in addition to the impact these choices can have on Lipitor lawsuits."
Prompted by the drug's potentially serious side effects, plaintiffs across the nation are filing Lipitor lawsuits, many under consideration for consolidation into a multidistrict litigation (In re Lipitor (Atorvastatin) Litigation, MDL No. 2459 (JPML)).
The Rottenstein Law Group operates the Lipitor Lawsuit Information Center. This page on the firm's website includes a comprehensive look at Lipitor side effects and how to contact an attorney to determine if Lipitor patients are able to file a lawsuit.
*nytimes.com/2013/05/04/business/fda-approves-mercks-combination-drug-to-reduce-cholesterol.html?_r=0
**bloomberg.com/news/2013-04-30/pfizer-lowers-2013-forecast-after-sales-miss-analyst-estimates.html
***archinte.jamanetwork.com/article.aspx?articleid=1108676
About THE ROTTENSTEIN LAW GROUP
The Rottenstein Law Group is a New York-based firm that represents clients nationwide in mass tort actions. The firm was founded by Rochelle Rottenstein, who has more than two decades of experience as a lawyer, to represent clients hurt by defective medical devices and drugs. (Attorney advertising. Prior results do not guarantee a similar outcome.)
Contact:
The Rottenstein Law Group, LLP
Rochelle Rottenstein, Esq.
321 W. 44th Street
# 804
New York NY 10036
(212) 933-9500 (office phone)
(212) 933-9980 (facsimile)
rochelle (at) rotlaw (dot) com
http://www.rotlaw.com
###