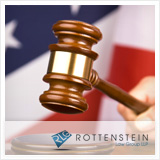 It would be costlier and more time-consuming if parties had to duplicate pretrial efforts 40 times. Or more.
(PRWEB) April 24, 2013
Earlier this month, a federal judicial panel consolidated in New York about 40 federal Mirena IUD lawsuits into what is called a "multidistrict litigation," designed to streamline pretrial proceedings and potentially give cases a better chance of going to trial sooner. The Rottenstein Law Group, a Mirena hormonal IUD law firm, is providing information about what the MDL means for those looking to file lawsuits related to the Mirena IUD's alleged side effects.
"When parties are faced with a growing number of lawsuits with a common cause for suit, as is the case with those suing Bayer over its Mirena intrauterine device, there is a strong interest in streamlining the pretrial procedures, such as discovery," said Rochelle Rottenstein, principal of the Rottenstein Law Group, referring to court documents pertaining to the MDL, In re: Mirena IUD Products Liability Litigation, MDL No. 2434, U.S. District Court for the Southern District of New York. "It would be costlier and more time-consuming if parties had to duplicate pretrial efforts 40 times. Or more."
Defendants used to lobby for MDLs when faced with scores of lawsuits because of the labor-intensive nature of discovery and other aspects of each individual lawsuit, according to Reuters.* Now, it is the plaintiffs' attorneys who support MDLs because of the efficiency—which is also the very reason defendants now often oppose them, the article said.
"Defendants can see an MDL as an avenue for more lawsuits," Rottenstein said, "which really means that it is easier for plaintiffs who believe they've been injured by a product to hold these firms accountable."
An MDL Is Not a Class Action
The formation of an MDL for federal cases does not mean that those seeking to file a Mirena lawsuit will need to enter into a class action, Rottenstein said.
"An MDL and a class action are different things," she said. "Lawsuits in an MDL each have the opportunity to potentially be tried in court, whereas a class action is a single lawsuit involving many members of a group or 'class.' The likelihood of receiving adequate compensation for injuries is much greater with MDLs than with a class action. It's important to note that in an MDL each plaintiff has the potential to receive his or her own award for damages."
According to court documents for the MDL, plaintiffs have alleged that the Mirena plastic, hormonal IUD causes such side effects as device migration and uterine perforation, in addition to the intrauterine device's alleged potential to become embedded in the uterus.
The Rottenstein Law Group encourages those implanted with the Mirena to visit its website at mirenalawsuit.us to read complaints reported to the FDA about the Mirena IUD.
*newsandinsight.thomsonreuters.com/New_York/News/2013/04_-_April/Plaintiffs_granted_consolidation_in_Bayer_IUD_lawsuits/
**fda.gov/downloads/Drugs/DevelopmentApprovalProcess/DevelopmentResources/UCM245685.pdf
About THE ROTTENSTEIN LAW GROUP
The Rottenstein Law Group is a New York-based firm that represents clients nationwide in mass tort actions. The firm was founded by Rochelle Rottenstein, who has more than two decades of experience as a lawyer, to represent clients hurt by defective medical devices and medications. (Attorney advertising. Prior results do not guarantee a similar outcome.)
Contact:
The Rottenstein Law Group, LLP
Rochelle Rottenstein, Esq.
321 W. 44th Street
# 804
New York NY 10036
(212) 933-9500 (office phone)
(212) 933-9980 (facsimile)
rochelle (at) rotlaw (dot) com
http://www.rotlaw.com
###