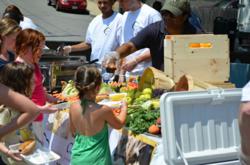 Boston, MA (PRWEB) November 10, 2011
Sidekim Foods announced this month that they were awarded the Boston Public Schools Summer Food Service contract. The local company, based in Lynn, provided their service at 150 locations throughout the city of Boston, serving over 20,000 meals a day.
Sidekim Foods was selected through a competitive bidding process and taste test. Sidekim Foods competed against one of the largest national contractors and was chosen. Albeit a small business, Sidekim Foods proved that it is possible to deliver high-quality, healthier and delicious meals and while at all times remaining fiscally responsible.
"We were truly excited for this opportunity and were crossing our fingers that we'd be chosen," said Peter Mikedis, president and founder. "We cheered when the formal award letter was received informing Sidekim Foods that the City of Boston had honored us with their choice and we felt proud to provide children with a fresh, healthy meal every day this summer; it was a complete success."
The contract will cost $3.5 million and last three years. Sidekim Foods will deliver breakfast, lunch and snack to 150 locations throughout Boston and surrounding areas.
"Sidekim shared our vision of providing the children of Boston with healthy, nutritious meals," said Shamil Mohammed, Interim Director of Food and Nutrition Services for Boston Public Schools. "We saw first-hand their commitment to this vision during the summer of 2011."
Sidekim Foods uses fresh fruits, vegetables, and dairy sourced from local farms. Lean, quality cuts of meat and whole grains are used to ensure that these meals are of the highest quality and nutritional value.
About Sidekim Foods
Headquartered in Lynn, MA, Sidekim Foods is a professional food service management company. Sidekim Foods has been in business since 2008, when Peter Mikedis founded the company with the mission to provide children and seniors with fresh, healthy and wholesome meals every day.
###