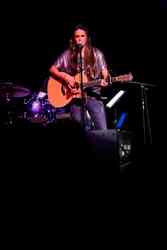 She sounds a lot like Colbie Caillat, Adele or Sheryl Crow but writes like a female John Mayer
Dallas, TX (Vocus) November 17, 2010
Sidney Thompson performed her album debut concert to a capacity crowd at the McKinney Performing Arts Center on October 28th. In her first live performance, she sang the soulful folk-pop tunes that are already defining her as a serious artist. The concert was the platform to release her groundbreaking debut album "Colors".
Sidney a.k.a "SID" is a 16 year-old Singer Song writing prodigy hailing from McKinney, Texas. Sid began writing and singing less than 12 months ago and has already caught the attention of several major recording labels. That said, she is currently planning on marketing herself with the new breed of Independent Artist (Indie Artist) promoting her songs via social media sites.
"She sounds a lot like Colbie Caillat, Adele or Sheryl Crow but writes like a female John Mayer", said Bob Cotton, a music producing Nashville/Los Angeles veteran in attendance. "It was amazing to see how she sang with such confidence and captivated the audience with her soulful vocals and heart-felt lyrics. Folks were definitely not expecting a performance like they saw tonight. This girl is gifted and has a unique sound."
"Colors" is already on iTunes and video clips of the performance have been posted on social media sites YouTube, MySpace and Facebook. Her songs "Just Anyone, Dance and Colors" are three songs from the album getting significant attention from the online community. Sidney's website, http://www.sidneymusic.com was also launched on the 28th.
"It was just an amazing night. I can't believe all these people came out to support me. It means so much and I'll never forget what happened here tonight for the rest of my life," said Sidney. "I was really nervous when I took that first step on stage but the energy of the audience clicked a switch and it was probably the most fun I can remember!"
"I'm over 40 years-old and these songs relate to me," said Kim Minton. "I can't believe this teenage girl can write like that. Wow, there is a lot of depth to the lyrics. She must have been married and divorced three times in a past life. It was an amazing performance and she will be a household name at some point."
The night was made even more special because Sidney's band was comprised of a few famous musicians. Lead guitarist Andy Timmons and local acoustic guitarist Clint Franzen led the way for a band that was tight and didn't miss a beat. One of the most compelling things was how the audience could sense the band was not just there to play but they also really believe in this new young talented teenager.
###