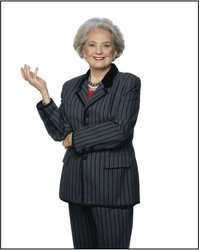 During the membership ceremony in 1967, I was the only new member not to receive a badge and a scroll
NEW YORK (PRWEB) December 28, 2007
"I am excited and proud to be ringing the closing bell at the NYSE," said Ms. Siebert. "Joining the Exchange was the best professional decision I ever made, and I have taken very seriously my unique position and the responsibilities as member of such a prestigious and historic organization that has truly changed the world for the better."
A widely-respected commentator on financial services and the economy whose opinion has often been sought by the Media, Congress and the White House, Ms. Siebert has been serving individual and institutional investors with honor and integrity since December 28, 1967.
It was then, despite numerous and blatantly discriminatory obstacles placed in her path, that she succeeded in winning her fight to become the first woman member of the NYSE. Her courageous decision to seek a seat alongside 1,365 men and her subsequent achievement of that goal resulted from having hit the glass ceiling at financial services firms which failed to provide her equal pay for her work that was equal to, and in many cases better than, that done by men in comparable positions. She was determined to achieve her potential despite such obstacles.
"During the membership ceremony in 1967, I was the only new member not to receive a badge and a scroll," said Ms. Siebert. "It was three years before another woman joined the Exchange. The sad thing is, representation of women on Wall Street is still not what it should be, nor could be. That being said, I am glad the world has created more opportunities for women and minorities. However, there is a long way to go for women to reach equity with men in the workplace."
Always An Innovator
On May 1, 1975, when regulators abolished fixed minimum brokerage commissions, allowing individual stock firms to set their own trading fees, Ms. Siebert had the vision to recognize the potential for a new industry to be born and, that first day, transformed the firm into a discount brokerage house. She has continued as an innovator throughout her career.
At the dawn of the computerized trading era, Ms. Siebert's was one of the first brokerage firms to introduce computerized trading via the Internet with the launch of SiebertNet.com, the firm's online trading Web site. Ms. Siebert continues to oversee the operation of her firm, including its seven branches serving individual investors in New York City; Boca Raton, Naples, Palm Beach and Surfside, FL; Beverly Hills, CA, and Jersey City, NJ.
"My passion for business today is the same as it was in 1967, which is to find opportunities for investors, and create value for shareholders," she said.
Muriel Siebert & Co., Inc., is also recognized today as one of the most prominent Woman-Owned Business Enterprises in the financial services industry. Muriel Siebert & Co., Inc.'s 49 percent-owned affiliate, Siebert Brandford Shank ("SBS"), is the nation's top-ranked woman and minority owned book-running senior-managing municipal bond underwriter and has ranked as one of the top 25 among all senior-managing municipal bond underwriters for the past six years and in 2006 ranked number 15. Likewise, in 2006, SBS acted as book-running senior manager on over $3.8 billion in municipal financings and co-manager of over $46.5 billion. In addition, Siebert Capital Markets, a division of Muriel Siebert & Co., Inc., has acted as co-manager, underwriter and otherwise played a role in substantial equity transactions and global corporate bond offerings.
In 1977 Ms. Siebert took a leave of absence from her firm to serve for five years as the first woman Superintendent of Banking for the State of New York. Although there was a major banking crisis at the time, under her leadership no banks failed in New York State.
Ms. Siebert, who attended but did not graduate from what is now known as Case Western Reserve University in her hometown of Cleveland, Ohio, today holds 18 honorary doctoral degrees and has received countless additional awards and honors throughout her life.
In addition to her work on behalf of investors throughout her career, Ms. Siebert has been actively involved with a wide range of non-profit, civic and women's organizations. One of the greatest examples of Ms. Siebert's community involvement is her profound commitment to the youth of this nation.
"My life today includes a strong passion and commitment to improve the financial literacy of our youth," added Ms. Siebert. "We must address and improve the financial education of our young citizens in order for our nation to compete in the global marketplace. Therefore, I have created and funded a financial literacy teaching program available free of charge to high schools nationwide in order to address this issue and especially support educational efforts in school districts that might not be able to afford developing or otherwise obtaining an objective program of this caliber."
The curriculum, entitled "The Personal Finance Program: Taking Control of Your Financial Future," is now being taught as part of the required Economics course for high school seniors in New York City's public schools and is in test roll-out in Palm Beach and Miami/Dade Counties in Florida, and other locations. It has received laudatory reviews from the Archdiocese of New York, which has introduced it in its high schools. The Council of the Great City Schools, a coalition of the nation's largest urban public school systems, has distributed the program to each of its 64 member cities. In keeping with her personal agenda, Ms. Siebert hopes to see this program established nationally.
Accompanying Ms. Siebert to the NYSE podium today to participate in the more than one hundred-year-old ceremony will be Napoleon Brandford, Chairman, and Suzanne Shank, President & CEO, Siebert Brandford Shank, Dale Coudert, Patricia L. Francy and Nancy Sanders Peterson, Directors, Siebert Financial Corp., Barbara Groome Gordon, M.D., Hiram D. Gordon, Esq., Janvey, Gordon, Herlands, Randolph, & Cox, June Jaffee, columnist Alair Townsend, and Gerald Tsai, Jr., Chairman, Tsai Management.
Statements in this press release concerning the Company's business outlook or future economic performance, anticipated profitability, revenues, expenses or other financial items, together with other statements that are not historical facts, are "forward-looking statements" as that term is defined under the Federal Securities Laws. Forward-looking statements are subject to risks, uncertainties and other factors which could cause actual results to differ materially from those stated in such statements. Such risks, uncertainties and other factors include, changes in general economic and market conditions, fluctuations in volume and prices of securities, changes and prospects for changes in interest rates and demand for brokerage and investment banking services, increases in competition within and without the discount brokerage business through broader service offerings or otherwise, competition from electronic discount brokerage firms offering greater discounts on commissions than Siebert, prevalence of a flat fee environment, decline in participation in equity or municipal finance underwriting, decreased ticket volume in the discount brokerage division, limited trading opportunities, increases in expenses, changes in net capital or other regulatory requirements. As a result of these and other factors, Siebert may experience material fluctuations in its operating results on a quarterly or annual basis, which could materially and adversely affect its business, financial condition, operating results, and stock price, as well as other risks detailed in the Company's filings with the Securities and Exchange Commission. Although the Company believes that the expectations reflected in "forward-looking statements" are reasonable, it cannot guarantee future results, levels of activity, performance or achievements. Accordingly, investors are cautioned not to place undue reliance on any such "forward-looking statements," and the Company disclaims any obligation to update the information contained herein or to publicly announce the result of any revisions to such "forward-looking statements" to reflect future events or developments. An investment in Siebert involves various risks, including those mentioned above and those, which are detailed from time to time in Siebert's Securities and Exchange Commission filings. Copies of the company's SEC filings may be obtained by contacting the company or the SEC.