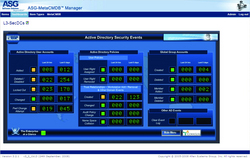 As compliance regulations become more rigid, and application use continues to grow exponentially, finding new ways to monitor and interpret information becomes more urgent
Naples, FL (Vocus) September 1, 2009
ASG Software Solutions, the originator of ASG's Business Service Portfolio™ (BSP™) and a worldwide leader in business solutions for global enterprises, today announced a strategic partnership with CorreLog, Inc., a provider of enterprise-class log management and proactive security correlation solutions, to deliver high-speed, real-time message correlation capabilities to Business Service Management (BSM) solution users.
ASG-CorreLog™ offers advanced correlation of system messages on ASG's dashboards, empowering users to monitor for security breaches and network intrusions while meeting compliance standards, such as HIPAA, PCI/DSS, and Sarbanes-Oxley.
Using sophisticated search and data collection algorithms, ASG-CorreLog aggregates and correlates messages from mainframes, routers, UNIX®, Microsoft® Windows®, and other platforms and devices. The software, which provides security correlation rules, reporting functions, and automated event handling, is compatible with many products featured in ASG's BSP solutions.
"As compliance regulations become more rigid, and application use continues to grow exponentially, finding new ways to monitor and interpret information becomes more urgent," said Richard Vance, executive vice president of operations at ASG. "Our partnership with CorreLog is part of our longstanding commitment to giving IT organizations improved service delivery to the business and better techniques for optimizing their IT infrastructure."
"CorreLog's partnership with ASG provides customers with a higher degree of enterprise awareness in their infrastructure," said CorreLog President George Faucher. "Volumes of system messages are reduced and summarized in a sensible way so IT administrators can effectively monitor for security breaches, compliance infringements and performance issues."
Free, 30-Day Evaluation
Download CorreLog for Windows 200x, XP, and Vista systems. NOTE: the CorreLog server system is designed for easy installation. A typical installation does not require the host platform to be rebooted and can be performed in less than five minutes. Download a free, 30-day evaluation.
About CorreLog, Inc.
CorreLog, Inc. delivers security information and event management (SIEM) combined with deep correlation functions. CorreLog's flagship product, the CorreLog Security Correlation Server, combines log management, Syslog, Syslog-NG, SNMP, auto-learning functions, neural network technology, proprietary semantic correlation techniques and highly interoperable ticketing and reporting functions into a unique security solution. CorreLog furnishes an essential viewpoint on the activity of users, devices, and applications to proactively meet regulatory requirements, and provide verifiable information security. CorreLog automatically identifies and responds to network attacks, suspicious behavior and policy violations by collecting, indexing and correlating user activity and event data to pinpoint security threats, allowing organizations to respond quickly to compliance violations, policy breaches, cyber attacks and insider threats. CorreLog provides auditing and forensic capabilities for organizations concerned with meeting SIEM requirements set forth by PCI/DSS, HIPAA, SOX, FISMA, GLBA, NCUA, and others. Maximize the efficiency of existing compliance tools through CorreLog's investigative prowess and detailed, automated compliance reporting. CorreLog markets its solutions directly and through partners. Visit CorreLog for more information.
About ASG
ASG provides software solutions to more than 85 percent of the world's largest companies. Through its comprehensive Business Service Management (BSM) solution, Business Service Portfolio™, ASG is an established BSM provider with a strong heritage in information management, applications management, infrastructure and operations management, and service and support technologies. ASG enables clients to reduce costs, improve business-service delivery, and reduce risks. Founded in 1986, ASG is a privately held company based in Naples, Florida, USA, with more than 90 offices worldwide. Visit http://www.asg.com for more information.
###