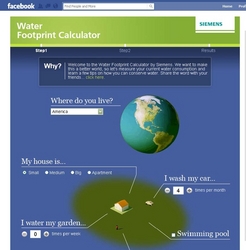 As a provider of water solutions for communities and industry, we see how water is becoming increasingly important to today's energy and environmental equation.
Warrendale, PA (Vocus) March 23, 2010
In honor of World Water Day, 2010, Siemens has developed a personal water use calculator application for Facebook. "People take water usage for granted," stated Chuck Gordon, CEO for Siemens Water Technologies. "As a provider of water solutions for communities and industry, we see how water is becoming increasingly important to today's energy and environmental equation. But we also see how our cities and utilities are struggling hard to maintain the infrastructure needed to keep it that way," explained Gordon. "Water is a valuable resource. The time is now to treat it as such."
According to the EPA (Environmental Protection Agency), an average U.S. household uses about 100 – 150 gallons of water a day per person, while Europeans use an average of half that amount. In fact, U.S. water consumption has tripled over the last 30 years while the population has grown just 50 percent. Globally, water consumption is doubling every 20 years. While water costs are currently subsidized in the U.S., there's no guarantee it'll stay that way. According to government statistics, 36 states expect to see a water shortage in the next three years. Globally, the situation is extremely serious; today more than 1.1 billion people are without access to clean drinking water, as published by the United Nations.
But one more thing people don't realize: Treating water is a very energy intensive operation today. Energy costs are nearly 30 percent of the operations costs at water treatment facilities. And, as water becomes scarcer, more resources will be needed to keep water clean and usable for consumption. In other words, wasting water could wind up costing all of us a lot more financially and environmentally.
"There is no single solution to addressing water scarcity. It will take better infrastructure, conservation and education – along with innovative technology – to help provide a sustainable future for our water resources. Each of us has an opportunity to make a difference. By understanding how you personally use water, we are better able to easily adapt our lifestyles in order to better conserve water," said Gordon.
Developing this fun, easy-to-use water calculator allows individuals to become more aware of how much water they are using – and importantly allows individuals to post – on Facebook – personal, public commitments to "conserve water." It also provides an attractive visual that quantifies the amount of water saved, either by individuals or collectively in groups.
To try the Personal Water Calculator, you need to be on Facebook:
http://www.facebook.com/apps/application.php?id=102033079832981
Easy steps to save water?

Check household faucets for leaks. A faucet with even a slow drip takes 10 to 25 gallons of water per day. Just think, 15 drips per minute add up to almost 3 gallons of water wasted per day, 65 gallons wasted per month, and 788 gallons wasted per year!
Keep showers to 5 minutes or less in length. A fifteen-minute shower takes 60-150 gallons of water.
Keep a pitcher of water in the refrigerator. Then you won't have to run tap water to cool it.
Use a broom to sweep your driveway, garage, or sidewalk instead of using water.
Use a bucket of water to wash your bike or the family car, then rinse quickly with a hose.
Water your lawn in the evening or in the early morning to avoid evaporation. Be careful to water only the lawn and not the sidewalk or street.
Use water only when you need it. Don't leave water running; be sure to turn it off when you are finished.
Further information about water treatment solutions can be found at
http://www.siemens.com/water
Contact USA:
Karole Colangelo
Corporate Public Relations Manager
Siemens Water Technologies Corp.
Hoffman Estates, IL
847-713-8458 phone
The Siemens Industry Sector (Erlangen, Germany) is the worldwide leading supplier of environmentally friendly production, transportation, building and lighting technologies. With integrated automation technologies and comprehensive industry-specific solutions, Siemens increases the productivity, efficiency and flexibility of its customers in the fields of industry and infrastructure. The Sector consists of six divisions: Building Technologies, Drive Technologies, Industry Automation, Industry Solutions, Mobility und Osram. With around 207,000 employees worldwide (September 30), Siemens Industry achieved in fiscal year 2009 total sales of approximately €35 billion. http://www.siemens.com/industry
The Siemens Industry Solutions Division (Erlangen, Germany) is one of the world's leading solution and service providers for industrial and infrastructure facilities comprising the business activities of Siemens VAI Metals Technologies, Water Technologies and Industrial Technologies. Activities include engineering and installation, operation and service for the entire life cycle. A wide-ranging portfolio of environmental solutions helps industrial companies to use energy, water and equipment efficiently, reduce emissions and comply with environmental guidelines. With around 31,000 employees worldwide (September 30), Siemens Industry Solutions posted sales of €6.8 billion in fiscal year 2009.
Further information and downloads at: http://www.siemens.com/industry-solutions
###